Lost your Microsoft license key?
by Volker Weber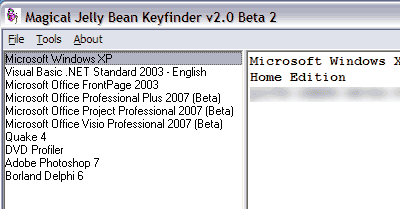 The Magical Jelly Bean Keyfinder is a freeware utility that retrieves your Product Key (cd key) used to install windows from your registry. It has the options to copy the key to clipboard, save it to a text file, or print it for safekeeping.
Comments
That's very helpful. Thank you for the posting. For those of us who pay for our licenses, but tend to swap hardware around a great deal, this makes great sense.
it doesn t find my german office 2003 :(
but cool program indeed. thx
Thanks - this is great for dealing with clients who've lost their serial key booklets
It's very legitimate. The only people who will hate this is corporate IT guys who don't want their users to know the volume license key.
I'm trying to move my 4 year old Publisher 98 from a failing machine over to a new laptop, but have lost the license key.
Calls to Microsoft have been unproductive.
Can this software (or other software) help with this?
Thanx
i dont have a license key for my microsoft