Navman iCN 530: First impressions
by Volker Weber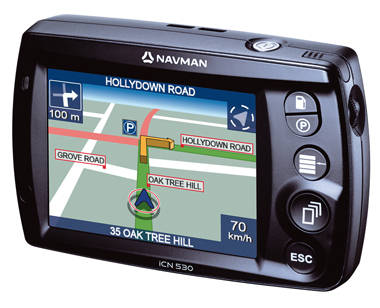 While I am still playing with the TomTom 910, I have also swapped the Navman iCN 720 with an iCN 530. Which may very well be the most interesting device in the current line-up.
The iCN 530 is clearly an interim release between the old iCN 520 and a newer version yet to be released. It has improved very much over the old device: SirfStar III GPS, a new map display, brighter LCD, improved enclosure with the same connectors as the 720/750. But the software, especially the user interface is not yet at the same level as the 720/750. It's menu structure is still the same as in the 520.
Having said that, there is a lot to like about the iCN 530. First of all, it is very light and small compared to the 720 (and even more compared to the TomTom). Yet it has two features the larger Navman units are missing: It will automatically switch to night view if you want, and you can also suppress GPS warnings. It does not have NavPix, it does not play MP3, it does not serve as a handsfree for your mobile, it does not play sildeshows. But it is a very capable navigator — isn't that what this whole thing is about — and it has the brightest display of the three units. Gone is the foldable GPS antenna and the 4-way-rocker. And it has the same dedicated buttons for nearest gas station and parking lot.
For some very strange reason, Navman has decided to not ship a map code for other countries in Europe with the 720. If you want to travel outside of your own territory (Germany, Switzerland, Austria in my case) you need to either buy a 750 (Europe preinstalled) or this 530. It does have the map codes. As with the 720, the preinstalled maps are on the internal 512 MB flash. You can use the external SD card for additional maps without removing the pre-installed maps.
Let's compare street prices: The 530 sells for 370 Eur, the 720 is at 530 Eur and the 750 hovers at 600 Eur. Given the fact that only the 530 and the 750 cover Europe, it's pretty clear that the 720 is not a good deal. I would get the 530. Definitely editor-refuses-to-give-it-back awarded.
Comments
Hi Volker,
hier beklagt ein Benutzer, dass er teils mehrmals täglich Abstürze
des Geräts erleben muss:
http://www.amazon.de/gp/product/B000FQJMDK/028-2445977-8790163?v=glance&n=11052861
Kannst Du das ebenfalls feststellen?
Grüße,
Axel
Hallo Axel, nein, das kann ich nicht bestätigen. Ich hatte einen Absturz der Anwendung, aber keinen mehr, seit ich das Softwareupdate installiert habe.
I searched for a GPS with multiple maps and came across this Navman model and that of the TomTom 910 and a host of others including Garmin which was nicked out of my C5 Break just days ago!!!
I read 3 times over to be certain.... and after comparing, my previous experience with the Garmin (model refrained for I'm not wishing to promote them for their bad service and yearly pricey upgrades!!!), I have to admit, the TomTom I now ha unpacked 3 days ago, is an AWESOME deal on the level of the consumer gadgets!!
With 20 Gigs built-in... I have also downloaded a ton's worth of digi pics during my holidays both last year and beginning of this year and they now slide (speed is variable from 1-sec to manual switch on each frame) adding extra distraction (only recommended for experienced drivers capable of multi-tasking while driving and cruising without hands on steering at speeds even above 175kph) to monotonous long drives, this is a breeze & delight!!!
With an optional FM transmitter dock mounted plus the FREE give away of the TMS antenne provided, this easily puts the Navman in the dockside!!!
Check, click here & cruise out with mine..
Cheers and happy cruising to all...
DFL - The Netherlands. (Sunday 25, 2007)