October 2008
by Volker Weber
Eagle-eyed reader ...
by Volker Weber
Screenshot: Lukas
by Volker Weber
Heute feiern wir 25 Jahre c't. Keineswegs nur "Männer, die alles wissen wollen" wie Michael Spehr in der FAZ schrieb. Es ist mir ein Vergnügen, zu diesem Anlass nach Hannover zu fahren. Schließlich war ich schon "dabei", als wir 10 Jahre feierten. Zwischenzeitlich habe ich mehr als 500 Artikel für c't und heise online geschrieben. Irgendwann habe ich aufgehört zu zählen. :-) Hier gibt es eine Reihe von Faktoids, etwa dass c't 250.000 Abonnenten hat, mehr als jede andere Computerzeitschrift in Europa.
6 DM hat die erste c't vor 25 Jahren gekostet. Heute bezahlt man für ein Heft 3,30 Eur. Ich finde, das ist ein bemerkenswert stabiler Preis. Bei 3% Inflation müsste sie eigentlich das Doppelte kosten.
Morgen früh bin ich schon wieder da, denn dann kommt Bob zu Besuch. Es wird eine kurze Nacht. Oder eine lange, je nachdem wie man es sieht. Ich freu mich jedenfalls schon auf die ganzen "alten Säcke". ;-)
by Volker Weber
[Thanks, Hanno]
by Volker Weber
by Volker Weber
It meant that because Porsche had not declared the proportion of VW shares it controlled, traders may have been indirectly and inadvertently borrowing shares from Porsche, selling them to Porsche, buying them back from Porsche and then returning them to Porsche.
[Thanks, Ben]
by Volker Weber
Bekanntlich will sich Frau Ypsilanti nächste Woche im Windschatten der US-Wahl entgegen ihrer Wahlversprechen mit den Stimmen der Linken zur Ministerpräsidentin von Hessen wählen lassen. Dagegen bildet sich Widerstand:
Seit letztem Mittwoch ist die Homepage www.wortbruch.info online. Über 10.000 Bürgerinnen und Bürger sind bisher der Bürgerinitiative beigetreten und verurteilen den Wortbruch von Frau Ypsilanti.

"Es bleibt zu hoffen, dass sich einige der betroffenen Politiker ihrer Situation noch vor der Wahl bewusst werden und sich gegen ein solches Bündnis entscheiden", ist nur ein Zitat eines besorgten Bürgers.

Insgesamt kommentierten über 2000 Teilnehmer durch persönliche teilweise sehr emotionale Beiträge. Darunter ein Großteil von SPD-Wählern, die sich verraten und betrogen fühlen.

Insbesondere nach der Bekanntgabe der Koalitionsvereinbarungen ist der Ruf nach einer schärferen Auseinandersetzung mit Besetzung und Demonstrationen lauter geworden.
by Volker Weber
by Volker Weber
I think I failed to mention that Sonos now also gives you access to the Pandora Internet Radio. Alas, not for us poor souls:
We are deeply, deeply sorry to say that due to licensing constraints, we can no longer allow access to Pandora for listeners located outside of the U.S. We will continue to work diligently to realize the vision of a truly global Pandora, but for the time being we are required to restrict its use. We are very sad to have to do this, but there is no other alternative.
For you guys in the US, Pandora is now free on the Sonos. You just need to add it as a service:
Does anybody know anybody at Napster? Would be interested to access their service once in a while.
by Volker Weber
Full access to all Sonos ZonePlayers, including Last.fm tag radio, with 'Love this track' and 'Ban this track' — this spells bad news for all other smartphones at vowe's magic flying circus. I'd rather have my Sonos remote in my shirt pocket ...
by Volker Weber
We are giving away all of our software for free on Tuesday, October 28th, 2008. This is a fully working, fully supported copy of either CrossOver Mac Professional, or CrossOver Linux Professional. No hooks, tricks, timebombs, or gimmicks: it's the real deal.
Now that's a new marketing schtick ...
by Volker Weber
Nice catch from the Sonos radiotime.com catalog, Heiko.
by Volker Weber
Here is the update I have been sitting on for a while. I have now been using Sonos 2.7 for a couple of months as a beta tester. And I have been enjoying one of its features: integration with last.fm. Today it is being released to all Sonos customers.
But last week there was a surprise for me. I met with Mieko Kusano, Senior Director Product Management at Sonos Inc. — the person responsible for all of Sonos design. She had a large wheeled suitcase and asked me for a power outlet. When she opened the suitcase, it was full of stuff I already knew. Two ZonePlayers with speakers, a ZoneBridge, an Internet router, an Apple Time Capsule used as access point and NAS, and lots and lots of cables.
Plus one iPod touch.
And I was still unaware of what she was going to show me. It turned out to be a software controller for the iPhone and the iPod touch. And what a lovely one. Let's hear it from Mieko's husband:
It's free. As in free beer, from the iTunes AppStore today. And it essentially has made the Sonos system a lot more affordable, especially for those people who already have an iPod touch or an iPhone. You can now start with one ZonePlayer and use your iPhone/iPod as the controller. Or you can add an iPod touch as a controller. It starts at $220 whereas a Sonos controller is $400.
I am afraid, that this person has had a very unfortunate timing. I don't think he will sell a lot of his controllers.
There is also another important update for people who like to listen to Internet radio. Instead of listing 600 radio stations and maintaining that list, Sonos is now partnering with radiotime.com and use their catalog of 15.000 radio stations (plus maybe 10.000 radio shows). You can still add you own if you so like to, and you won't lose your favorites when upgrading.
A lot more pictures at heise.de.
by Volker Weber
Just as a reminder, because the US has a different cross-over date. Starting today London is only 4 and Frankfurt 5 hours ahead of New York:
Since 1996 European Summer Time has been observed from the last Sunday in March to the last Sunday in October; previously the rules were not uniform across the European Union.[76] Starting in 2007, most of the United States and Canada observe DST from the second Sunday in March to the first Sunday in November, almost two-thirds of the year.[86]
An interesting week for webinars and telephone conferences.
by Volker Weber
And another one >
[via Wolfgang]
by Volker Weber
by Volker Weber
While the Sonos is playing Suzanne Vega:
I used them a month ago in Sweden for the first time in front of a live audience. Hmm, I thought, These feel weird. Not all they are cracked up to be. Very much like ear plugs, in fact.

I felt like I was in a pantomime, or underwater, and finally I remembered there was a little dial poking up out of my pocket that I had access to. I decided to turn it up — thereby turning it on. I had performed half the show with the monitors turned off! Oops. No wonder I couldn't hear anything.
It's probably the best description of what in-ear headphones do for you on the plane. You can't hear anything. And then you add some very quiet music to calm you down. I learned to go into a meditation that makes the time fly.
[Thanks, Richard]
by Volker Weber
With Nokia MapLoader for Mac, you can sideload maps to your phone directly from your Mac. This way, you can save a lot on your data transfer costs - especially if you are planning a trip abroad. Nokia MapLoader allows you to download map data for whole countries or areas, so that you don't need to use data connection on the road.
by Volker Weber
Don't know the guy? Or his site?
by Volker Weber
by Volker Weber
The TomTom Go just works. I would have been lost without it. Nice touch to have two maps on it. One for Europe and one for North America.
The Prius is a nice ride for US roads. Very smooth. I don't think it fits German driving habits, but for the much more relaxed American way of driving it is wonderful. I got 44 mpg for almost 300 mls in three days. I think I paid just $17 for the gas. If you think that is expensive, you should come visit us.
Some people tell me the BlackBerry Bold is buggy. Well, mine isn't. It just works wonderfully. But I have to admit, that I have a very recent software revision.
3G coverage in Silicon Valley is a joke. Sometimes I was able to get to EDGE, and I briefly was on 3G at SFO. But there was no reception in many parts of San Francisco, and anywhere south of it, it just got worse. It's not the Bold, because that works absolutely flawlessly here on 3G and 3.5G.
TSA is useless. Well, not entirely. They take care of people who would otherwise have no job.
RIM knows a lot less about what reporters need than for instance Lotus. And if they know it, they don't act on it. Otherwise, great conference. Very generous package with free device. Best mobile guide I have ever seen. (Hey, this Viigo software would work very easily for Lotusphere). And finally a cool backpack that is not yellow. :-)
California 1 is still my favorite road. Ever.
If you are in the area, you have to go to San Francisco. There is nothing like it. Go there, make it happen. Even if only for a few hours.
I really like to listen to "How to save a life". But nothing beats DJ Jondal for an 11 hour flight. And do get in-ear-headphones. Much better than those Bose NC headsets everybody seems to be toting.
Yesterday I learned some great news, but I can only tell you next Tuesday. Yes, such a tease. But I do keep my secrets.
by Volker Weber
Look what I caught today in San Francisco:
by Volker Weber
by Volker Weber
by Volker Weber
I have now been about 36 hours on the ground in Santa Clara. Yahoo is on the other side of the street, and Google or Apple are not far away. Currently I am stuck between my deadlines and information hiding on the vendor side. It took more than one leak to get all the information I needed to make it to the printing press in time. Everybody has been more than helpful, and in the end I am going to make it, despite some serious lack of sleep. Four hours from now the conference will go into full swing with the keynotes of top RIM management. At which time I can probably relax a bit more.
Without breaking any news, I have played with the BlackBerry Storm yesterday. I find it quite impressive. The not so obvious feature is that the device screen knows a soft tap and a harder press, where the screen actually gives away a little. The tactile feedback is very similar to the new touchpad on the Apple MacBooks. It feels natural, especially when typing on the onscreen keyboard. I find that keyboard to be a little bit better than the iPhone keyboard, but not good enough to replace a real keyboard. I am probably going to need a few days for a final say, but from the first experience, I would go for the Bold instead of the Storm.
What's really impressive is the turnout of this conference. I was expecting maybe 600 attendants, but there are more than 700 here. Everything is standing room only, with overflow rooms. Massive for a mobile developer conference.
by Volker Weber
Thinking about buying a Flip. Is it any good? How often do you actually use it?
by Volker Weber
For BlackBerry Developer Conference I will once again be traveling light. Not on electronics though. In ear headphones, iPod, MacBook, small camera. I will also be bringing a TomTom Go 930, and a mobile phone of course.
Now, which one would I want to take along? The E71 is currently my favorite, sometimes being replaced by an iPhone. But whenever I leave the country and have to use data roaming, it's always a BlackBerry, this time the Bold. I am not sucking up to RIM here, it's just that nothing matches the mail experience of this device. And mail will be the most important backlink. Don't try to call me, I won't be answering anyway. ;-)
by Volker Weber
Zitieren wir mal Hal Faber:
Was herauskommt, wenn man sich auf Seiten der PR-Flaks für Höheres berufen fühlt, darf freilich auch nicht verschwiegen werden: Da firmiert ein Microsoft-Pressesprecher gleich als Professor, weil er an der Fachhochschule eines Alt-68ers (und Konkurrenten des Herrn Merten) tätig ist, für die Microsoft das Finanzierungsmodell für Studenten entwickelt hat. Garbage in, Garbage out, nennen es die Informatiker. Und die Journalisten werden derweil mit einem "Presse-Audit" von Microsoft und dieser Fachhochschule genervt, das nach Frage 29 abbricht, wenn man den falschen Browser hat.
Am meisten bewundere ich, dass Hal das mit der Frage 29 rausgefunden hat. Meine Aufmerksamkeit endet immer nach "Guten Tag, ich rufe an im Auftrag des Institut fü[klick]". Allerdings hat seine Mickelichkeit mir dieser Tage schon einen Friendly Reminder geschickt.
by Volker Weber
by Volker Weber
[Thanks, Nick]

by Volker Weber
Oxnard, CA - October 16, 2008 - Scosche Industries ... announces the availability of its new passPORT iPod/iPhone car integration system. The passPORT utilizes a female pass-through connector to attach to any in-car iPod integration system to charge all iPhone and iPod models, including the iPhone 3G and the recently introduced nano 4G and touch 2G.
by Volker Weber
Microsoft isn't exactly known for championing open source projects. So it's rather surprising (in a good way) to see the company release something called the Microsoft Web Platform Installer, which makes it possible to batch install a set of open source projects on Windows Vista or Server 2008.

These projects include DotNetNuke, Drupal, Gallery, Graffiti, osCommerce, PHPBB, and Wordpress. As InfoWorld points out, Microsoft itself isn't technically the distributor of these projects since users are merely obtaining them from third party developers through Microsoft's new installer.
by Volker Weber

Photo: Bjoern Ognibeni
Amazing, how you can learn something new every day. I had no idea what the Lake Wobegon effect is. It probably explains some fanboy-ness.
by Volker Weber
A prolonged, ongoing Gmail outage has some Google Apps administrators pulling their hair out as their end users, including high-ranking executives, complain loudly while they wait for service to be restored.

At around 5 p.m. EST on Wednesday, Google Inc. announced in the official Google Apps discussion forum that the company was aware of a problem preventing Gmail users from logging into their accounts and that it expected a solution by 9 p.m. on Thursday.
by Volker Weber
So ein nationaler IT-Gipfel ist doch eher eine kurze Veranstaltung. Die kriegt der Bundeswirtschaftsminister bestimmt mit seinem Fundus an Allgemeinplätzen geregelt. Zur Akkreditierung braucht man dafür keinen Presseausweis. E-Mail-Adresse und nachfolgend Geburtsdatum und Ort tun's auch.
"Wir werden Ihre Angaben dann prüfen." Ich denke, ein Bundesministerium hat gute Kontakte zu Leuten, die so was prüfen können. :-)
by Volker Weber
[Thanks, Claude and Alper]
by Volker Weber
CommonTime, with the release of its highly anticipated new corporate mobility solution mSuite5, has announced support for a range of highly desirable Nokia devices. The supported devices, all running on Symbian Series 60 3rd Edition Operating System, include the business dedicated Nokia E71, E61i and E90 Communicator. mSuite5 also supports Nokia N series devices, including the N96 and new N85, which although more focused on multimedia users still allow full access to Lotus Notes email and PIM applications when combined with mSuite from CommonTime.
by Volker Weber
It was only a 100 € total. Can you tell by this picture without looking?
by Volker Weber
by Volker Weber
This year I am two days early.
by Volker Weber
[Thanks, Stefan]
by Volker Weber
On July 29, 2003 I switched from Windows to Mac. I had used Windows as my main computing platform for 12 years, and was frankly fed up with its instability. Well, after 5 years on the Mac platform, today I switched back to Windows, and demoted my MacBook Pro to a lab machine. And I switched back for a very simple reason: Windows is better for business.
by Bruce Elgort
by Volker Weber
A lot of people have been waiting for this update, and it isn't even complete. Starting today Apple has five very different notebook designs. The three above, all sporting an AL body with a black keyboard. Plus the old white Macbook as an entry level machine, and the old 17", which now seriously looks outdated. That design has not changed in more than five years.
What are the new ones? A refresh for the 13" MacBook Air, a new 13" MacBook, and a new 15" MacBook Pro. Don't let Apple make you believe they invented this "carving out a solid block of metal" engineering. How do you think your cylinder head is made? And that has some serious moving parts. :-)
I like the new design a lot. You have to wonder how Apple is able to continuously improve their product design. The new trackpad is going to really shine, and I would love to have LED backlight on my display. But my Blackbook already has 2 gigs of RAM and a 160 gig hard drive. A few more cycles on the CPU won't make a difference for me, and I don't need any faster graphics.
When the time has come to replace my MacBook the new lineup will not easily make me buy the larger Pro. Large is not good when travelling. And an even faster graphics chip does not make a difference here. Since they both share the same body, I would take the 13" model any day. And the smaller one to boot. Slightly larger hard disk and a few more cycles will not make me buy the more expensive setup.
So for me it would be the 13" AL body MacBook. And I am going to recommend the white machine as an entry level hardware. As I did until now. But it will be harder to "sell" now that you get a good PC notebook for 40% less. Has Apple missed the boat to the low end market? Or is it good that it keeps out of this cutthroat business?
by Volker Weber
I guess that's what you get, if updating your visitor's Silverlight is more important than the information you wish to convey. Going here does not make it any better:
by Volker Weber
Wozu verschlüsseln, wenn eine einfache Übersetzung schon reicht? Nicht nicht?
[Danke Patrick]
by Volker Weber
Simon presents his favorite OpenOffice.org addons:
by Volker Weber
EU-Kommissar stärkt Vertrauen in chinesische Milchprodukte
[Danke, Hanno]
by Volker Weber
An e-mail sent to Wal-Mart digital music store customers said the company will continue to support the DRM-ed song files sold on walmart.com starting in 2003. The e-mail reversed last month's announcement that Wal-Mart would shut down the servers that authenticate the copyright protected music it no longer sells. Unfortunately, doing so would render all protected music purchased from the store in the past five years unplayable. ...

After e-mailers and commentators explained to Wal-Mart how much harm shutting down its DRM authentication servers would cause its customers, the company backpedaled, and will keep its DRM servers running -- for now anyway. In addition, it will continue to employ support staff with the unenviable chore of helping Wal-Mart customers navigate the rocky landscape of Microsoft's aging PlaysForSure DRM, which Microsoft won't even use in its own store.

For Wal-Mart -- a company obsessed with keeping costs down -- the price of keeping Microsoft's aging DRM system on life support will be a sour reminder of why copyright protection on individual song downloads was such a bad idea in the first place. At least the company has learned its lesson and is abandoning music DRM entirely.
Repeat after me: DRM is bad for the customer.
by Volker Weber
Looks like somebody fiddled with the server. Well, if the store goes down at Apple.com you can expect new products. :-)
by Volker Weber
During the next two years, IT's greatest opportunity to significantly improve overall enterprise operational performance will unfold from resolving the nine most contentious issues, according to Gartner, Inc.
by Volker Weber
Al Sacco:
Next week, Research In Motion (RIM) is holding its first developer-centric event in Santa Clara, Calif., the BlackBerry Developer Conference (BBDC), and I'm lucky enough to be attending. That's not all: I've been asked to sit on the judging panel for a cool new related event, dubbed The BlackBerry Cool 15.
by Volker Weber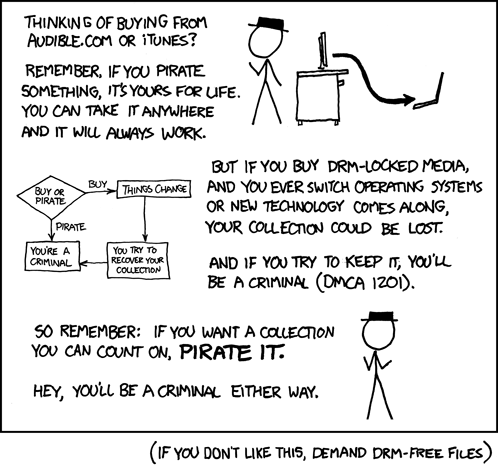 Repeat after me: DRM is bad for the customer.
[Thanks Ingo and Amy]
by Volker Weber
The BlackBerry Developer Conference has a great session scheduler. It lets you export the schedule to an iCal file and import directly into your calendar. Great stuff.
by Volker Weber
It runs on Linux, Mac OS X, Solaris and Windows. Natively, no Eclipse needed. Read and writes ODF 1.2 and reads Microsoft Office up to Office 2007. You will have to find a mirror that already contains the 3.0 release code. I guess 3.0 will be announced tomorrow.
by Volker Weber
Remembering the applications that Apple has killed
by Volker Weber
by Volker Weber
[via Valentin]
by Volker Weber
Anything else John?
— Ben Poole
by Volker Weber
Don't miss this unique opportunity. The event is free, but space is limited.

Apple technology evangelists and engineers will soon be traveling the globe bringing iPhone development expertise to a city near you. Learn about the tools and technologies you'll use to create great iPhone applications, then work with the experts to optimize your code, refine your user interface, and apply the knowledge you gain from the sessions to enhance the capabilities of your iPhone application.
by Volker Weber
If you want to meet drop me a note.
by Volker Weber
Available next month >
by Volker Weber
by Volker Weber
by Volker Weber
According to Wikipedia AC/DC is releasing a new album ten days from now:
Black Ice is the upcoming fifteenth studio album by Australian hard rock band AC/DC, set to be released on October 18, 2008 for Australia and October 20 for the rest of the world. It will be their first album in eight years, since the release of Stiff Upper Lip in 2000, the longest gap between AC/DC's studio albums to date.
According to the pirate bay, it escaped yesterday. Not that I would care for their music. :-)

by Volker Weber
by Volker Weber
Verizon Wireless, Vodafone Group and Research In Motion (RIM) today announced that the BlackBerry Storm will be available later this fall, exclusively to Verizon Wireless customers in the U.S. and Vodafone customers in Europe, India, Australia and New Zealand.
by Volker Weber
The BlackBerry Java Development Environment (BlackBerry JDE) v4.7 is now available for download as a beta.
by Volker Weber
I discussed the Notes client with Andrew yesterday, and he beat me publishing my own observation: could the Notes 8 Eclipse Client (IBM calls it Notes 8 Standard Configuration) be Lotus Vista? Good looking, but kind of a resource hog, and sometimes a nuisance?
A lot of people don't want to or can't move to Vista, and still, there are quite a few people who really like it.
by Volker Weber
The error message differs somewhat from the FAQ. In any case it does not like Firefox 3. Maybe it would, but it is programmed to not like it. Of course I can lie about the user agent, but that's not the point.
by Volker Weber
XING just sent me this email. Looks like they are trying to expand their network into the UK and Ireland. It's very much alive here in Germany, and according to their PR they have the highest number of paying members bar none.
Signing up is easy. Though they don't make it terribly obvious, completely removing yourself from their platform is equally easy. Login and go here: https://www.xing.com/app/user?op=cancel
by Volker Weber
fruux is a lightweight and convenient system preference pane, that syncs your Address Book, Calendars, Tasks and Bookmarks between different Macs. fruux supports sync conflict resolution which will help you when you changed a record on more than one machine.
by Volker Weber
SCOTTSDALE, Ariz., and REDMOND, Wash. — Oct. 6, 2008 — GoDaddy.com Inc., the world's largest domain registrar and largest hosting provider in North America, and Microsoft Corp. today announced that GoDaddy.com is delivering mobile and group e-mail plans with Microsoft Outlook, powered by Microsoft Exchange Server 2007, to help small and medium-sized businesses (SMBs) improve worker productivity and communications regardless of physical location. The new e-mail plans from GoDaddy.com, including Personal Outlook, Outlook with Mobile, and Group Outlook with Mobile, give SMBs the ability to manage all of their online services from one place.
Compare prices here>
by Volker Weber
In three easy steps:
Type a valid password. The password must be 8 characters or more.
Type a valid password. Your password should contain at least one non-alpha character.
Type a valid password. Your password can't include the part of your emailaddress.
I feel enlightened now.
by Volker Weber
Sporting a brand new interface, dozens of fixes, enhanced hardware support, and brand new support for the latest Eee models, Ubuntu Eee is better than ever.
by Volker Weber
It's the typical support case for friends and family. You want to help them set up a new computer, but they have kept no records (or out of date ones) of their accounts and passwords. In this case it's a mail account in Thunderbird.
On the Mac you just go to Keychain Access and type in your master password and it will reveal your stored passwords. But what do I do on a Windows machine with a Thunderbird mail client? This seems to be a shady part of the Internet I don't want to navigate. I hope somebody has a good recommendation for a trustworthy way to recover the password.
Can you help?
by Volker Weber
Drei Freikarten zur Systems 2008 abzugeben. Werden bestimmt noch mehr. Kommentieren und schon geht die "Post" ab.
by Volker Weber
fring is now available on the App Store making it easy for anyone to use fring on the original iPhone, iPhone 3G or iPod touch.
by Volker Weber
Great news. Very well deserved, Ed. And you are even ahead of your time by three days. ;-)
by Volker Weber
Fluid is a pretty handy little Mac application. It allows you to create Site Specific Browsers for web applications you use. These SSBs are then available as a dock icon or menu bar item, as if they were standalone desktop applications.
by Volker Weber
We strive to offer great internet services while taking our energy use very seriously. That's why, almost a decade ago, we started our efforts to make our computing infrastructure as sustainable as possible. Today we are operating what we believe to be the world's most efficient data centers.
by Volker Weber
Bug fixes:
Seamlessly plays the current song when creating a new Genius playlist.
Improves syncing spoken menus to iPod nano.
Addresses an issue of deleting HD TV episodes when downloading.
Improves checking for updates from the App Store
Improves accessibility with VoiceOver.
Addresses problems syncing Genius results to iPod.
by Volker Weber
At Lotusphere 2004 Lotus announced a unified version 6.5.1 of Notes, Domino, Quickplace and Sametime. They were all supposed to be compatible and tested together. From that version on Lotus was going to make sure that the products would work together, tested and certified by Lotus. Quickplace and Sametime made huge advances in version numbers to mirror this initiative.
These times are long over. Now you can't upgrade from Notes 8.0.1 to 8.0.2 without losing your connectivity to Quickr 8.1.
Quickr/Websphere, Connections, Websphere Portal and the Sametime gateway all require very particular versions of Websphere Application Server and DB2, and you cannot run them on the same infrastructure.
It's a complete mess.
by Volker Weber
Currently looks like I might be there ...
by Volker Weber
So why was it, that the iPod touch does not have a camera. Or two?
by Volker Weber
Umsteigen von ICE 73 auf IC 2299 sollte eigentlich einfach sein: 12:00 Ankunft, 12:20 Abfahrt. Nun war aber ICE 73 erst um 12:23 da. Und erfreulicherweise hat ICE 2299 einfach 8 Minuten gewartet. 5 Minuten Zeit zum Umsteigen, das reicht. Dankeschön.
by Volker Weber
Lots of new cool features, amongst them notifications for incoming direct messages, cache up to 200 messages instead of just 20, etc. Notifications are set in the regular Profiles application:
Make sure you uncheck some of the notifications or TwitterBerry is going to drive you crazy. ;-)
by Volker Weber
Die aktuelle Ausgabe gibt es hier als PDF in einem 12,6 MB großen ZIP-Archiv.