January 2005
by Volker Weber
I need to prepare for a side by side description of Domino, Exchange and a bunch of open source mail servers. I am pretty fluent on how Domino works and my partner in crime knows about the open source servers. Our knowledge of Exchange however is very spotty. Documents and links would be very welcome.
by Volker Weber
Gestern habe ich mich den ganzen Tag gefühlt, als sei ich gegen einen Bus gelaufen. Um Mitternacht dann ging es mir immer besser und ich konnte endlich meinen Lotusphere-Report für c't schreiben. Dabei hatte ich eine ziemlich heiße Birne, was allerdings nicht an CPU-Überlastung lag. Kurz das Fieberthermometer konsultiert: 39.5 Grad.
Bombig geschlafen, lange im Bett rumgelungert und jetzt sind wir schon wieder runter auf 38. Wenn das nur immer so schnell ginge. Update: Ging auch diesmal nicht so schnell. Hänge immer noch durch.
Und ich liebe diese Braun-Thermometer, mit denen man nur kurz ins Ohr leuchtet.
by Volker Weber
We're targeting 2006 but that isn't in any sense an exact date.
— Bill Gates, referring to the planned availability of Longhornwait
[Thanks, Nick]
by Volker Weber
Ivan, you have moved me to tears. Your last words will be remembered forever.
This is my last diary. I have written it ahead of time because I knew there would be a point when I was not well enough to continue. That time has now come.

...

I will end with a plea. I still have no idea why I ended up with a cancer, but plenty of other cancer patients know what made them ill.

If two or three people stop smoking as a result of anything I have ever written then the one of them who would have got cancer will live and all my scribblings will have been worthwhile.
[via Ben]
by Volker Weber
After all BMW enthusiasts are not that different from Mac enthusiasts. :-)

by Volker Weber
We have returned from Lotusphere yesterday. The travel was uneventful, the bird that took us across the pond was running at 30% capacity so we had plenty of room to move around.
Now I need some time to recover from sleep deprivation; I could cut about 5 hours daily out of my schedule to get at least some sleep. As every year, I was unable to meet with everybody that I wanted to and I have also not made it to the Thawte signing party that Rocky had set up in the Swan.
The site has been running smoothly, but that is mostly due to the the maid who has done a wonderful job of keeping the house clean. Thanks a million. If your comment has somehow magically disappeared, I'd suggest you read the FAQ. We also have a new case of The Happy Troll, whose messages will be deleted from now onward. In case he did not get the message I sent him, I shall be blocking the IP range of this ISP.
Spartacus has sorted out 1537 spam messages while I was away. Zero false positives and around 7% false negatives. It is still improving every day. I am impressed.
I have published a few stories about Lotusphere already and now need to write up some more. The comments on heise.de were useless troll postings as ever, but this one stands out. I don't know whether you have noticed but Ambuj Goyal and Mike Rhodin were referring to Sametime and Quickplace in the general opening session, and not their generic IBM-style product names. The workplace offerings are so confusing that even IBM personell had to look at their pedestal signs to tell them apart. There were business partners completely confused about what is contained in Workplace Collaboration Services, Workplace Services Express, and whether the Workplace Messaging and Workplace Team Collaboration offerings were still available or whether their capabilities were included in the new offerings or not. This is a complete mess. Try reading the press announcements.
IBM has demonstrated the Eclipse Notes plugin for Windows and for Linux, and committed to both the Mac client and the plugin to be available in a maintenance release of Notes 7. I fail to see what is missing for a Linux client now the plugin is looking quite good. If you are an IBM customer that wants to deploy a native Notes client, then now is the time to put some weight behind your requests.
by Volker Weber

Foto: Daniel Nashed
by Ragnar Schierholz
From what I heard, this commercial gave the VW board some headache. Supposedly a viral test of an advertisement agency without the authorization of VW.

by Volker Weber
These photos were taken by US military personnel in Fallujah on November 19, 2004. They were taken in order to identify the dead, as well as used to track where the bodies were later buried in Fallujah. Of hundreds of photos taken for identification of the dead, I selected these in order to show the face of war. Due to most media outlets in the west continuing to not show the daily horrific images in Iraq-of wounded and dead soldiers, civilians and fighters, I decided to put these on my site. I did so because I believe it is important for people to see what war looks like.
You only want to see these, if you think the war in Iraq "is worth it".
by Volker Weber
Sametime-Paul, Demo-Gary and Security-Charlie. Gary was formerly with Lotus, Paul and Charlie with Iris Associates. If you watch closely, you can see the Iris logo on their green shirts. Honi soit qui mal y pense.
by Volker Weber
Wenn mir sowas passiert, dann lach ich mich schief und krumm.

by Volker Weber
by Volker Weber
The opening session webcast is now online. However IBM has set up a barrier you have to pass.
This site requires all users to sign in with IBM IDs and passwords, which can be used site-wide. You will need an IBM ID to continue. If you have not registered yet with IBM, please click the 'Register' link below, otherwise sign in now.
This feels like corporate IT, doesn't it? just compare to Apple.
by Volker Weber
Go get them here >
by Volker Weber
Mike Dituro (Managing Director Deutsche Bank), Conrad Cross (CIO City of Orlando), Mike Rhodin (IBM VP Development), Ray Ozzie (CEO Groove Networks), Irene Greif (Fellow IBM Research), Esther Dyson
by Volker Weber
SWAN, Eagle Board Room, 4PM - 6PM
by Volker Weber
Celebrating Notes' 15th birthday IBM makes Notes versions 1 through 3 available for download. You want to get them now, since they will only be available until the end of next week.
by Volker Weber

Best anagram for "Lotusphere" is "Here's Pluto"
— John Cleese, guest speaker at the Lotusphere 2005 opening session, referring to the venue at Disney
by Volker Weber
See him again on Esther Dyson's panel tomorrow at 8:30.
by Volker Weber
Claude Lelouch, "C'etait un rendezvous", 1976
From the Porte Dauphine to Sacre-Coeur in less than 8 minutes in a Ferrari 275/GTB. Top speed in excess of 200. Count the number of red lights the car is running.
[Thanks, Hajo]
by Volker Weber
I talked to Rocky yesterday at the Gonzo gathering at ESPN and he has secured a room for Tuesday evening after the sessions. He promised to update the Wiki page but has not yet done so.
Update: The wiki page is hosed again since the LS2J (Lotusscript to Java) agent killed the java engine on the server again. So I am posting the dates now on this site.
by Volker Weber
by Volker Weber
Yesterday we were at the Apple Store in Tampa. Again. After only one week. Hey, I like it there and they have free wireless broadband. :-)
We were able to check out the Mac mini and the new iPod shuffle. The shuffle is sold out as they come into the store. They had three on display but none available for purchase. Those on display were connected to Bose headphones and the sound was really good. At least on the level of the 20 gig iPod and certainly better than the iPod mini.
There were also two Mac minis on display, one with 256 meg and the other upgraded to 512. While the 256 meg version was really slow, the 512 felt just right. No surprise: You absofuckingluteley must upgrade the memory. There was one Mac mini available when we went into the store. Just a couple of minutes later it was gone. No, it was not Russell.
If you plan to go to the Apple store at the Millenia Mall to purchase a mini or a shuffle while at Lotusphere give them a call at (407) 352-5551 first. They are probably sold out.
by Volker Weber
At the Penumbra dinner at the Fulton's Crab House Gary is selling .NET to Ambuj while Andrew is looking.
by Volker Weber
Andrew Pollack unveils the Certified Unofficial Lotusphere T-Shirt 2005. Also available in blue and up to size XXXXXL. I settled for XXL and Ute for S. No XS available. :-)
by Volker Weber
We are wrapping up in Holmes Beach and leave the beach house tomorrow. No more sunsets. :-) However, after we moved to the Lotusphere site at the Dolphin & Swan, the frequency of posting on vowe.net won't go up for another week. I will be busy talking to other people, sucking up all the new stuff and also writing for heise online. My reporting probably will be a bit less excited than what you will be hearing from the Domino bloggers, so you might want to look there for all the good stuff.
I am not publishing my schedule like Ed did, but it is very similar. Just replace the BDD stuff with jumpstarts, schedule a completely different Tuesday evening and you almost got it. It currently looks like every night is double booked so I will probably have a good sleep on the plane home although we are booked in monkey class.
Post your whereabouts to the Lotusphere Wiki. Check this page, if you want to have your Thawte ID signed. Rocky is setting up a date and time for a signing party.
In less than a day, I shall be in The Zone. If you see me, say hi.
by Volker Weber
by Volker Weber
This just in from Bruce:
Orlando, FL – January 23, 2004 – OpenNTF.org is happy to announce their participation in the Lotusphere 2005 Product Showcase. OpenNTF is the leading web site for Notes and Domino developers who are looking for open source Lotus Notes and Domino templates.

Some of OpenNTF's most popular projects include the OpenNTF Mail Template, domBulletin, kSpam, iWatch, Surely Template, ACLHelp, VIC CRM, !!Help!!, OpenWiki, OpenLog, MailScan, Vacation Request, User Administration Utility, Open Notes Picture Database and BlogSphere.

OpenNTF.org is pleased to announce that the Lotusphere 2005 Online system is using OpenNTF's domBulletin template for the second year.

Attendees can visit the OpenNTF booth (#305) and see demonstrations of any of the OpenNTF projects.
Bruce Elgort and Vince Schuurman will also be speakers at OpenNTF Birds-of-a-Feather Session (BOF511) that will be held in the Dolphin Hotels Oceanic 1 room on Tuesday, January 24, 2005 from 3:00pm - 4:00pm.
by Volker Weber
by Volker Weber
Manager's log:
Computer does not work, I've called our sysadmin. Admin comes, raises his hands to the sky, chantes something inelligible, turns my chair clockwise 10 times, kicks the computer and it starts to work. Admin raises his hands to the sky, chants something again and leaves.
Admin's log:
Coming to the user, the guy tangled the power cord around his chair. Quietly whisper to myself what I think about him, untangle the cord, kick the computer behind the desk so that it will not happen again, turn it on, leave.
[Thanks, Wolfgang]
by Volker Weber
by Volker Weber
Google supports a new link attribute rel="nofollow", as reported in many blogs, that is set to remove the incentive to spam comments, trackbacks and referrers. Currently I am not publishing referrers or trackbacks. Comments are protected by the CAPTCHA controller, so I currently see no incentive to downgrade the links that are included in your comments. So, if you are adding a URL with your comment, or if you add a proper href within your comment, I will continue to link to it without this new attribute. Links are an important part of the blogsphere and I value them a lot.
by Volker Weber
Vor einigen Wochen hatte ich mal — ohne jede Schadenfreude — spekuliert, dass das metamac magazin vielleicht noch nicht so gut läuft. Ben Schwan, Chefredakteur und Hausmeister, schrieb mir damals ein paar freundliche Zeilen, und lud mich dann ein, sein Magazin kennen zu lernen. Im Urlaub hatte ich jetzt ausreichend Zeit, die letzen fünf Ausgaben zu lesen.
Das Magazin kommt jeden Samstag als PDF-Datei per Mail und ist so gestaltet, dass man das dreispaltige Layout auf dem Bildschirm ohne Scrollen lesen kann. Wer eine Klozeitung braucht, druckt es einfach aus. Auf 31 Seiten inklusive Deckblatt und Impressum erfährt man alles Wichtige, was sich in der letzten Woche rund um den Mac getan hat. Dies beginnt mit den Tagesnachrichten auf jeweils zwei Seiten. Wer täglich die einschlägigen Blogs abklappert, kennt diese Infos schon. Wer dazu keine Zeit hat, dem bietet das metamac magazin einen sehr kompakten Überblick. Abgerundet wird das Magazin schließlich durch eine Reihe von Features, in der letzten Woche zum Mac mini, dem iPod shuffle, iWork 05, iLife 05 und der Auseinandersetzung zwischen Apple und ThinkSecret.
metamac magazin erscheint samstäglich zum Preis von 99 Cent pro Ausgabe. Abonnements werden für jeweils 15 (14,85 Euro), 30 (24,75 Euro) oder 52 (41,58 Euro) Ausgaben angeboten.
Ein Ansichtsexemplar gibt's kostenlos. Einfach mal bestellen. Ich kann mir gut vorstellen, dass Ben noch eine Menge Leser gewinnen kann.
by Volker Weber
I have been visiting the US for 24 years, with a short interruption in 1991/92 at least once a year and as often as four times a year. With that many data points you see things improving (more healthy food) and other things getting worse. TV news have become worse each visit. I first noticed this when the bomb went off in Oklahoma City during my vacation in the US. There was nothing else in the news for 2 weeks. Today nobody seems to even notice the irony in these two messages:
The invasion of Iraq, which ousted Saddam Hussein and has cost the lives of some 1,300 U.S. military personnel and billions of dollars, was 'absolutely' worth it, despite the absence of any weapons of mass destruction in Iraq, President Bush told ABC News' Barbara Walters in an exclusive interview..
Iraq has replaced Afghanistan as the training ground for the next generation of "professionalized" terrorists, according to a report released yesterday by the National Intelligence Council, the CIA director's think tank.
One of the things that you cannot grasp as visitor is the daily life of regular people. Is the country really divided between Republicans and Democrats? I honestly don't know. Some people have argued that this is overblown by the media, but I have also talked to people who are really uncomfortable working with or living in a neighborhood of people "who buy into the B/S".
But what is definitely on the rise is paranoia. We even had an argument with the gate agent because Ute photographed the gate in Atlanta.
by Volker Weber
by Volker Weber
by Volker Weber
by Ragnar Schierholz
An old Arab lives close to New York City for more than 40 years.

by Volker Weber

Beachfront, Holmes Beach, Anna Maria Island
Pictures here >
by Volker Weber
We have been putting together a Wiki for Lotusphere-related stuff. Now it's your turn to add interesting stuff. Yes, that is you as well, sir. :-)
The Wiki home page is at http://www.benpoole.com/ls05
You don't need to login to change anything. A good start is to add yourself to the RoomNumbers page with room numbers. If you write your name as a WikiWord (VolkerWeber instead of Volker Weber) then you will get an autolink to a yet to be written page. Click the question mark and you have set up a new blank page for yourself. Add something to the page and save it. If you go back to RoomNumbers, you will see that your name is set up as a link to your page.
You may find these two categories interesting:
http://www.benpoole.com/benpoole/ls05.nsf/Topics?Open&Topic=Lotusphere
http://www.benpoole.com/benpoole/ls05.nsf/Topics?Open&Topic=People
Now it's your turn, folks. A wiki is not a database with thousands of entries. It is what we make of it. Collaboration is the game.
by Volker Weber
Take a good look at this gallery. Because the fine print says, that you need to turn the machine in if you want to add RAM, Bluetooth or WLAN. Do it yourself and potentially void the warranty.

by Volker Weber
That does remind me of last year
by Volker Weber
John Leyden writes:
Normally when a user tries to play a protected Windows media file, and a valid license is not stored on a computer, the application will look for it on the internet, so that the user buy access to copyright-protected content. This new technology is incorporated in the latest Windows Media Player 10 update as well as XP SP2.

If the user runs a video file that is infected by one of the "DRM Trojans", they pretend to download the corresponding license from the net. In reality users are redirected to sites that take advantage of Windows vulnerabilities to download spyware, adware, premium-rate diallers and other viruses onto victim's machines.
Boy, do we feel secure now that we are "protected" by DRMed files. The latest and greatest Microsoft Office has a similar mechanism. ET phone home.
by Volker Weber
Ryan Block writes:
Apple's been back and forth trying to shut down Hymn from working with iTunes purchased music for a while now — remember, they wrote software that strips the DRM code from ITMS-purchased music (like Real's Harmony, which bypasses FairPlay DRM with their own compatible version). Apparently Apple's gone and broken it entirely (again) in iTunes 4.7.1, which means, of course, that it will be only a matter of time before it's un-broken by the Hymn guys, and so on, and so forth.
I'd suggest, you don't fool around with the likes of Hymn and you also don't sit and wait until Apple opposes anything else on the DRMed music you just bought. Remember, Apple is the sole maker of software that plays the music you "own". If they see fit, you can play it on 5 computers and unlimited iPods as well burn it to CD, that's fine. What do you do, when they change their mind?
Convert your music to MP3. Now! Once you have done that, you are free to play your music on any device, any time, and you can safely upgrade your software, sell your computer, whatever. It will be yours. Just like your CDs.
by Volker Weber
[Thanks, Rocky]
by Volker Weber
Wer macht bei Apple eigentlich die Preise? 489 Euro für den Mac mini, bei Cyberport traditionell etwas billiger, aktuell 479 Euro. Vielleicht gibt es irgendwo einen Kaufmann, der ganz schnell rechnen kann. 410 Euro plus 16% MWSt wäre der maximale Preis, zu dem man den Minimac als geringwertiges Wirtschaftsgut kaufen kann: Keine Abschreibung, sondern direkt absetzen. Ob wohl noch so viel Luft drin ist?
by Volker Weber
Ich bin ja eh schon ein Langstreckenduscher. Aber mit dem soeben montierten Raindance bin ich noch mal ein paar Bahnen extra "geschwommen". Rrrrrrrrrrr.
by Volker Weber
Dr. Wolfgang Littmann, Vorstandsvorsitzender der DNUG - Deutsche Notes User Group e.V., ist in der Nacht zum 6. Januar plötzlich und unerwartet in seinem 55. Lebensjahr verstorben. Vorstand, Mitarbeiter und Mitglieder trauern um den Initiator und langjährigen Vorstand der DNUG.
by Volker Weber
Now that The Steve Show is over and all the Apple sites are abuzz with how great the new gear is, I want to take the time to sit back and look at what has been presented today.
Apple is now a successful music company that sells way more iPods than Macs. So let's start with the new iPod shuffle, a tiny flash based player for $99 (512 meg) or $149 (1 gig). Flash player, wasn't that the market that Jobs dissed in 2003 and 2004? Connects via USB (no Firewire), has no display, no scrollwheel. You can't see what it is playing, and Apple touts this as an advantage. Now combine this with this iTunes feature and life is like a box of chocolate. You never know what you're gonna get:
If your iTunes library exceeds the iPod's storage capacity, you can let iPod create a playlist to fill your iPod to capacity
Next up is the Mac mini, a really tiny computer, sized like a small stack of CDs. What they don't show you is that there is an external power supply. And it is priced like a car in the German market. You get the basics (256 meg of RAM, 40 gig HD, CD burner) and then you add the options: keyboard, mouse, memory, larger disk, WLAN, Bluetooth, DVD burner. Starting at $499 a maxed out Mac mini is not quite as mini. And that is before you add the screen.
iLife gets an update and is now iLife 05. Big surprise. :-) The only app I am using in iLife (besides iTunes of course) is iPhoto. The biggest upgrade this program needs is more speed. It is getting too slow now that I am quickly approaching its design limit. Sadly, there is no mention of an upgrade to its capacity on Apple's site or during the keynote. Please, surprise me. While iLife 04 was $49 the new version sells for $79. No upgrade pricing available. iLife 05 comes with all new Macs and if you get one that still has 04, you can upgrade for $19.
Keynote gets a feature upgrade and is now available as 2.0. It is no longer sold separately but comes together with a new word processor called Pages. Apple calls this bundle iWork. A presentation program plus a word processor is not yet an office package. That would require a spreadsheet. Is the world waiting for a new word processor? Not so sure. Look at the bright side: Keynote 2 plus Pages is less expensive than Keynote 1. So this definitely is an improvement.
This summary is not all fair. There is a ton of new stuff that I have not touched on. High definition video, a much improved Garageband. It's just that I have no use for those.
Update: While I am wearing my flameproof underwear, I feel like mentioning one thing that Jobs has not mentioned: The success of the color iPod. Or I'd rather say, the lack thereof. Apple apparently is having a hard time selling the 60 gig iPod Photo and even more so the 40 gig color screen model. The price uptick is just too much. Watch them adding more capacity (60/80) and/or drop the price.
by Volker Weber
From the clouded crystal ball of Sara Radicati:
Blogging will fade away from the corporate world and be considered a consumer tool, no longer a credible source of news.
by Volker Weber
by Volker Weber
Remember the shortest software test ever? Well, the developer sure did not like that post. But instead of passing the buck he fixed the problem. Now my server is running version 1.21, without any issues whatsoever.
Spartacus is a bayesian filter that comes pre-trained and catches spam with an 80% accuracy right out of the box. It does not delete mail but instead moves it to a spam folder called SpamBox. When you pull false positives out of this folder or drag spam from your inbox to the spam folder, Spartacus learns. It has already improved to a 90 something accuracy within a few days.
The installation is a breeze. The software installs itself as an extension into the Domino server and then creates the SpamBox in the users mail file automatically when the next message is received. It learns for each user individually as he drags mail in and out of the SpamBox.
Now I need to give it some more time to improve. I am cautiously optimistic and will let you know in two months of how things went so far.

by Volker Weber

Received: from [24.244.142.151] (helo=vowe.de)
by mxeu1.kundenserver.de with ESMTP (Nemesis),
id 0MKpV6-1Co5vM2ItV-0001Gk; Mon, 10 Jan 2005 21:14:00 +0100
From: "Returned mail"
To: vowe@vowe.de
Subject: DELIVERY REPORTS ABOUT YOUR E-MAIL
Date: Mon, 10 Jan 2005 15:06:11 -0500
MIME-Version: 1.0
X-Priority: 3 (Normal)
X-MSMail-Priority: Normal
X-Mailer: Microsoft Outlook Express 6.00.2600.0000
X-MIMEOLE: Produced By Microsoft MimeOLE V6.00.2600.0000
Message-ID: <0MKpV6-1Co5vM2ItV-0001Gk@mxeu1.kundenserver.de>
X-SpamScore: 0.550
tests= SUBJ_ALL_CAPS
X-RegEx-Score: 441.2
X-RegEx-Warning: suspect (441.2 > 430.0)
X-RegEx: [121.7] FORGED_MUA_OUTLOOK Forged mail pretending to be from MS Outlook
Content-Type: multipart/mixed;
boundary="----=_NextPart_000_0014_92574875.655D0E85"
------=_NextPart_000_0014_92574875.655D0E85
Content-Transfer-Encoding: 7bit
Content-Type: text/plain;
charset=us-ascii
------=_NextPart_000_0014_92574875.655D0E85
Content-Type: application/octet-stream;
name="readme.zip"
Content-Disposition: attachment;
filename="readme.zip"
Content-Transfer-Encoding: base64
UEsDBAoAAAAAAMWgKjIAKfKawHAAAMBwAAAKAAAAcmVhZG1lLnNjck1akAADAAAABAAAAP//AAC4
AAAAAAAAAEAAAAAAAAAAAAAAAAAAAAAAAAAAAAAAAAAAAAAAAAAAAAAAANgAAAAOH7oOALQJzSG4
AUzNIVRoaXMgcHJvZ3JhbSBjYW5ub3QgYmUgcnVuIGluIERPUyBtb2RlLg0NCiQAAAAAAAAAAAAA

A readme.zip file coming in from 24.244.142.151 which pretends to be from vowe.de, where 24.244.142.151 belongs to CABLEBAHAMAS-NET (24.244.128.0/18) according to whois.arin.net. No body text, but an attachment of 28 kByte. Do I want to know what is in this readme.zip?
Better not.
by Esther Schindler
There's some really interesting stuff in Google's Usenet archive:
Jul 1982 First mention of a compact disc
Aug 1982 First mention of the Commodore 64
Aug 1982 First mention of Apple's Lisa and Macintosh products
Nov 1982 Early reference to emoticons
And lots more, of course. Though the omissions are almost as curious.
by Volker Weber
Start: Norway, City: Haugesund
End: Norway, City Trondheim
Get directions
See Europe in 47 hours and 31 minutes. Total Distance: 1685.9 Miles.
by Volker Weber
Declan asked me yesterday:
I would like to be able to issue to X.509 certs to all staff in my Domino directory. Now I know I can do this with the built-in Domino CA but these certs aren't signed by a public authority so can't be automatically trusted.

Do you know of any way that the Domino CA can be setup so that it can issue certs from somebody like Thawte.
This is an excellent question. I have set up Domino CAs in the past, both for issuing server certificates for intranet sites, as well as for client certificates to enable automatic and transparent login to sites via SSL. However I have never set up a corporate CA to issue X.509 keys for signing and encrypting mails.
If you use your own self certified root certificate, everything works, besides that you need distribute said root certificate to all clients. This is not an option for email that leaves your realm. The question boils down to:
How do you become a sub-CA of a trusted CA?
by Volker Weber
Notes sucks. Yes, we all know how bad it sucks. Horrible this and horrible that. Well I still love it. Now go away.
— Damien Katz
by Ragnar Schierholz
You've probably followed the recent entries concerning the Thawte certification. I myself have taken the opportunity of having my Thawte certificate notarized becoming a notary myself, finally. Thanks to vowe at this occasion! Now, the use of such thing is rather limited, if you keep it to yourself or only as a file as such. Thus, I just tried to spread my digital certificate to where I think I need it. Not too easy when some Notes is involved, as it turned out.
by Volker Weber
by Volker Weber
How crazy would I have to make my signature before someone would actually notice? In my lifetime, I have made nearly 15,000 credit card transactions. I purchase almost everything on plastic. What bugs me about credit card transactions is the signing. Who checks the signature? Nobody checks the signature.

Credit card signatures are a useless mechanism designed to make you feel safe, like airport security checks. So my question was, how crazy would I have to make my signature before someone would actually notice?
by Volker Weber
Ralf has found a nasty bug in Notes 6.5.3 (specific to this version) that destroys document links under certain conditions:
1. The user is editing a document where the current form has sections that are protected.
2. The user has no rights to edit the protected section, while he is saving the document.
3. The protected section contains a rich text field.
4. This rich text field contains document or view links.
If all four conditions are met, Notes 6.5.3 deletes or modifies the $Links field thereby rendering the links in the protected section empty.
by Volker Weber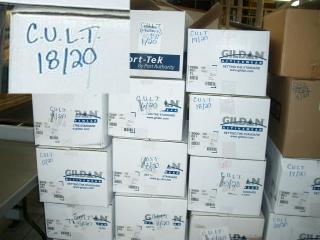 This spy cam shows how the CULT-shirts (Certified Unofficial Lotusphere T-Shirt) 2005 are being produced.
by Volker Weber
Eben bei Wolfgang Schmidetzki gesehen:
Innovation Gate ist Hersteller eines J2EE basierten Content Management Systems (BTW: dieses Blog ist mit diesem CMS realisiert). Zur Verstärkung des Produktentwicklerteams sucht Innovation Gate Java Entwickler.
by Volker Weber
In the final part of our article series on IBM Workplace application development, we develop a simple noteboard application for IBM Workplace. ... To keep things simple, we focus only on the application aspects that affect IBM Workplace and do not address in detail the problems that many J2EE applications must consider, ...
OK, here is the deal: One form where you can enter a subject and a description. One view, that shows all notes with subject, author and date. One button for composing a new note, OK and cancel on the form. How long does it take to build this?
On the positive side, the design and development of this application took approximately 30 hours of development work for one person, which is a relatively short time, and illustrates that the Workplace platform is easy to develop applications for.
30 hours? "On the positive side"? You have to read the whole thing to see how complicated you can make matters in this development environment.
by Volker Weber
Apple will not be making satellite coordinates available. Although the keynote WILL be available on our web site - it will NOT be available until sometime AFTER the keynote is over. They do NOT have a time determined, so it may not be immediately after the keynote is over.
Dang. It's always fun to watch this live. It's rather boring when the news is already out.
by Volker Weber
At least if the back of this car looks like the front.
by Volker Weber
Various Artists - Wakka Chikka Wakka Chikka
Porn Music For The Masses Volume 1
Do I have your attention? Good. ;-)
[via megawatt]
by Volker Weber
I had a tiny wiki page last year where we were able to coordinate whereabouts of people, party schedule and equally important matter. Unfortunately I had to lock down the wiki because I was getting more spam than content.
At the same time I have a feeling that we need much more coordination this year. Domino bloggers are setting up their sessions, there is a bunch of collaboration going on and I would like to have a central freeform clearing space where everybody can contribute without too much setup. The Sphere portal has always been completely useless for this task.
I just spoke with Bruce about this and we concluded that it might be a good use case for Ben Poole's wiki template for Domino. Stay tuned to have a URL announced soon ...
by Ragnar Schierholz
Official release. Version: 1.1.0.61. Release date: Jan 5, 2005 File name: SkypeSetup.exe
Download Skype for Windows
by Volker Weber
Happy 21st, we got you a new tux, hope you like it. Be careful when you wake up. Finger? What finger?
by Volker Weber
A lady was sitting next to a priest on a very bumpy flight.
"Father, you are a man of God, can't you do something about this terrible storm?"
"Lady, I'm in sales, not in management."
[Thanks, Hajo]
by Volker Weber
Damien Katz has a very interesting story about the time he spent rewriting the formula engine for Notes/Domino R6. There is so much in it, that each reader takes away different aspects. These are my key points:
You can have a successful product with a completely neglected component, that nobody "owns". I have seen this quite often in other companies.
Reporting a bug does not get it fixed.
Somebody with zero knowledge of C++ who is really dedicated can write a compiler and a runtime that outperforms an optimized C program that has been around for years.
Being bugward compatible is mandatory for backwards compatibility.
Shitload is an engineering term meaning great amount.
Hire this man!
by Volker Weber
Habe eben mit jemandem gesprochen, der heil aus Thailand zurück ist. Er war mittenmang in Patong Beach:
Ich: und wie ist die stimmung? "scheise, gepäck weg, urlaub kaputt, nur ärger" oder "mein gott, was haben wir ein glück, wir hätten tot sein können"

Er: eher ersteres. traurig aber wahr. zumindest was unsere landsleute angeht. engländer und schweden waren in der mehrzahl froh am leben zu sein.
Und auch was positives:
der service der deutschen botschaft ist wirklich gold wert gewesen. papiere sofort ausgestellt, hätten auch seelsorger gestellt .... und haben uns geld ausgelegt bis unsere bank die neue karte nach Bangkok geschickt hatte. hätt ich nicht gedacht.
by Volker Weber
If you choose convenience over safety your security nightmares will haunt you for a very long time. Case in point: Open Domino address books with IDs attached. Anybody want to bet on how carefully passwords are chosen? No, I don't want to link to any address books in the .mil domain. :-)
by Volker Weber
Heute Arcor beauftragt. ISDN + DSL 3000 + DSL Flat für 49,90 Eur statt bei der Telekom ISDN + DSL 1000 + T-Online Flat für 70,52 Eur. 20 Euro weniger für dreifache DSL-Leistung. Schaun mer mal.
by Volker Weber
[Thanks, Simon]
by Volker Weber
Bruce has an interesting question:
Lotus Notes user A leaves the company.

Lotus Notes user B wants certain folders and the associated folder hierarchies from User's A email placed into their mail database.
Any suggestions?

by Volker Weber
Before:
and after:
by Volker Weber
Watch the computer evaluate its next move. If you are a good chess player let me know how good this machine plays.
by Volker Weber
by Volker Weber
You can be an exclusive sponsor of vowe.net for 30 days. These are the rules.
- One banner on each and every page that has comments turned on
- PNG or GIF (no animation), or four lines of text
- A link back to your site
- Displays for 30 days
- You can only bid for the next month
- Highest bidder wins
You will be getting around 10,000 impressions a day or 300,000 impressions for the full month. If you are interested in this kind of program drop me a note with how much you would like to pay for this coverage. Don't be shy if you only want to spend a small amount. I will let you know where you stand.
by Volker Weber
Alex sent me a link to this movie which shows a live performance at the Seoul International Cartoon & Animation Festival in 2003. Stunning.
by Volker Weber
by Volker Weber
If the print server does not accept any print jobs, it isn't necessarily the cable, the network, or the configuration. Even resetting the print server does not always help. However, stacking paper in the paper tray might be a good start.
by Volker Weber
A brief browser summary shows that Internet Explorer accounted for one third of page impressions on vowe.net in 2004. That is still way too much. Starting today there will be a button promoting Firefox in the right hand margin that is only visible in browsers that identify themselves as IE.
by Volker Weber
We know the make of car, the choice of sports, and we can guess the color of hair.
by Volker Weber
Wer bietet weniger? Einmal hab' ich allerdings Riesenglück (weniger als 50 km Abweichung) gehabt. Ihr werdet schon merken wo. ;-)
by Volker Weber
[Gefunden bei Stefan Weber]
by Volker Weber
Manfred Dillmann, best known for his Notes RSS reader, migrates his site to Mambo on top of Linux, Apache, MySQL and PHP. I like it when a true Notes guy uses the best available tool instead of defaulting to Domino.
by Volker Weber
With the R5 release Lotus split the Domino Designer and Domino Administrator from the Notes Client. There were now three program icons, seperate designer.exe and admin.exe files in the program directory and two extra icons for the Designer and the Administrator client in the bookmarks bar. "Enterprise" administrators finally had a way to take away Notes' rapid application development from the regular users.
It was all smoke and mirrors. There was no separate Designer or Adminstrator clients. Power users found out that those clients shared the same code with the Notes client. When Notes was showing the hourglass, so did Designer or Administrator.
People soon found out that you only need to copy designer.exe and admin.exe from a separate computer into the Notes program directory to gain access to design and admin features. Later it was discovered that you actually don't even need to have the "real" exe files. You could just as well use a text editor to create two files in the directory and name them designer.exe and admin.exe. When restarting the Notes client the extra bookmarks for Designer and Administrator showed up.
As Manfred describes you don't even need to do make any changes to the program directory. You simply add
@Launchapp("designer")
to the subject field of an empty mail message and hit Shift-F9. Notes will immediately load the Designer client. For the Administrator you enter
@Launchapp("admin")
This works for all versions of Notes 5.x and 6.x on Microsoft Windows. If you try this on the Mac then Notes will tell you ERROR: The Domino Designer is not available
by Volker Weber
Hagen (ots) - Am Nachmittag des 29.12.2004 erhielt ein 24-jähriger Mann einen Tipp, dass in einem Kiosk in der Innenstadt ein Mann seinen Laptop günstig verkaufen wolle. ... Die beiden Männer verhandelten und einigten sich schließlich auf einen Kaufpreis von 300,-- EUR. ... Als der 24-Jährige kurz darauf die Tasche öffnete, fand er zwei Flaschen mit Wasser und Zeitungspapier.
by Volker Weber
A very happy New Year to you all, and here's to a brighter 2005 ...