March 2015
by Volker Weber
As I was investigating pricing for BES12 in the cloud, which just became available, I once again wondered about this:
The pricing and licensing options for BES12 are the same whether you choose to deploy on premise or in the cloud.
BES12 is licensed per device and year, starting from $23 all the way up to $90, depending on the services and support level you want. (German pricing here.) You can use BlackBerry's servers in the cloud, or you can download the free server software, lease your own server hardware, provision it in your data center, license the operating system, pay your systems administrator, and on top of that pay the same price as you do when running it in the cloud.
In essence: when you license the software, you get the service for free. And that's not only BlackBerry. I see other vendors doing the same.
I believe this pricing scheme, deploy on premises or in the cloud for the same price, will create a big pull. It's going to be difficult for IT to defend their servers. There are quite a few reasons to run your BES12 on premises: secure connectivity behind the firewall, ActiveSync gatekeeping and more. But what's really telling are the free trials. 30 days in the cloud, 60 days on-premises. You just need those extra 30 days to even get started.
by Volker Weber
Atom X7, 13 W MicroUSB charger, USB 3.0, Mini DisplayPort, microSD reader, Pen. This rings all the right bells. Don't be fooled by the $500 price tag. There are two versions for 600 € and 720 €, and you will want the more expensive one. And then you add keyboard (150 €) and pen (50 €). If you want the dock, that's another 230 €.
Hey, Microsoft, did you know this comes out very close to my birthday? ;-)
by Volker Weber
Re-imagining the way you send files

No file size limit. No waiting. No hassle. Always works!
by Volker Weber
A New Way To Work, eine neue Art zu arbeiten, das ist IBMs Slogan für Verse. Das ist ein hoher Anspruch, dem Verse in seiner ersten Form noch nicht gerecht wird.
by Volker Weber
Domino 9.0.1FP3IF2 — that's short for "Domino 9.0.1 Fix Pack 3 Interim Fix 2 (released March 27, 2015)" — introduces TLS 1.2 support. That is both important and overdue. Installing the Interim Fix is not enough. Daniel explains what settings need to be changed. It's complicated.
by Volker Weber
"Hello everyone. My name is Vania Schlogel and I am a proud member of the Tidal team." So fing die peinliche Pressekonferenz an, bei der in alphabetischer Reihenfolge von Alicia Keys bis Usher 16 Künstler stolz auf die Bühne schlappten (Herren) respektive stöckelten (Damen), um dann stolz Autogramme auf einen Zettel zu schreiben. Madonna legte dazu das Knie auf den Tisch, was niemanden provozierte. Calvin Harris und Chris Martin sparten sich die Anfahrt und lungerten einfach vor ihrer Webcam rum. Zwischendurch gab es eine Ansprache von BlackBerry Global Creative Director Emeritus Alicia Keys, die es nicht verstand rüber zu bringen, warum Tidal nun die Zukunft der Musik sein solle. Diese Fähigkeit hatte sie bereits bei BlackBerry demonstriert. Yeah.
Die Damen trugen die Unterwäsche teils gut sichtbar oder gut unsichtbar. Die gute Nachricht: Kanye West hielt keine Ansprache.
Es gibt nun also einen weiteren Streaming Service, den es schon mal gab, aber der jetzt "relauncht" wurde. Früher musste man $20 pro Monat dafür zahlen, jetzt auch noch, wenn man die Mukke als FLAC übertragen will (mehr Daten, mehr Volumen, mehr Speicherplatz). Das gibt einem das gute Gefühl, besser zu hören als diejenigen, die das gleiche für $10 abonnieren, nur ohne FLAC.
Sonos soll vom Start weg ebenfalls dabei sein. Tut bei mir aber noch nicht, obwohl gestern angekündigt.
Update 31.3. 14:24: Mittlerweile lässt sich Tidal als Service hinzufügen:
by Volker Weber
by Volker Weber
Ende April ist ein halbes Jahr rum, in dem ich 100 km die Woche laufe. Voraussichtlich sind es dann 3000 km. Und das funktioniert, weil ich konsequent auf Räder verzichte. Es ist verlockend, wenn man nur mal sechs Eier braucht, auf's Fahrrad oder gar die Vespa zu steigen. Dabei ist das eine gute Chance, mal eben schnell ein paar Tausend Schritte zu laufen, ohne sich besonders anzustrengen.
Wer meint, er habe keine Zeit, am Tag 10.000 Schritte zu laufen, steigt einfach mal ein paar Stationen vorher aus der Straßenbahn aus oder probiert Park & Walk. Man muss ja nicht bis direkt vor's Haus fahren.
Früher bin ich mit dem Auto möglichst nah an die Aufzugtür gefahren. Homo oeconomicus. ;-)
by Volker Weber
by Volker Weber
Just stumbled upon the greatest black&white wildlife photography I have ever seen.
by Volker Weber
We live in a nation where public acceptance of evolution is the second lowest of thirty-four developed countries, just ahead of Turkey. Roughly half of Americans reject some aspect of evolution, believe the earth is less than ten thousand years old, and that humans coexisted with dinosaurs. Where I live, many believe evolution to be synonymous with atheism, and there are those who strongly feel I am teaching heresy to thousands of students.
by Volker Weber
ignore all tips on how to become a great street photographer
observe the world around you mindfully
do not judge
great ego, great photography: choose one
learn composition
shooting film will not improve your photography
shooting leica will not improve your photography
embrace failure
shoot a lot
have something to say
by Volker Weber
[Thanks, Max]
by Volker Weber

[Video Business News Network]
More CEOs should be like John Chen. Since taking this job 18 months ago he has avoided the imminent crash of BlackBerry. With 3.6 billion dollars in the bank he is confident to be able to transform the company into a viable business.
by Volker Weber
Last quarter BlackBerry sold 1.6 million smartphones, down 300,000 from the previous quarter. So far more than 700 million iPhones were sold. At 1.6 million per quarter it would take more than a hundred years to catch up to where Apple is today. And that's the company that is "losing" against Android. Microsoft sold a record 10.5 million Lumias last quarter. To put this in perspective, Apple sold 10 million iPhone the weekend after the 6/6+ were released.
A few years ago, my perspective was that there would be a third eco system besides Android and iOS. Symbian and webOS were still in the running but only two platforms were fighting for being third: BlackBerry and Windows Phone.
My perspective today is that neither won. BlackBerry is a niche player that just stopped bleeding money. And Windows Phone is fighting to stay relevant. Microsoft's next move is to make "Phone" go away and put everything under the Windows brand. And it's going to make everything even more complicated. In contrast to Apple where there is one version of iOS and one version of OS X, there will be dozens of Windows versions.
This is what application developers target today, when they are not being bankrolled by a vendor:
iOS and Android
Windows (Win32) and Mac (OS X)
Chrome and Firefox
iOS trumps Android in revenue, not marketshare. Win32 is the old API that runs on all desktop versions of Windows. Chrome is the fastest growing browser, at the expense of (mostly) Firefox. Both are cross platform and work the same across Windows and OS X.
Who are the winners? Apple and Google. This is the real battle for Microsoft. Windows (old Win32) is still king on the desktop. But what were the dominant platforms for smartphones five years ago? Symbian and BlackBerry. Times are changing.
by Volker Weber
Der kanadische Hersteller kann einen Etappensieg auf dem Weg aus der Krise vermelden: Blackberry weist für das abgelaufene Quartal einen Gewinn aus. Die Absatz der einst populären Smartphones sinkt aber weiterhin.
by Volker Weber
Three months free trial, after that $1 a month for unlimited photo storage and 5 GB worth of other files. $5 a month for unlimited everything.
by Volker Weber
This is John Paul Benini, and he was one of the most interesting people I met last week at CeBIT. How did that happen? Marie-Ann asked me "did you see the Dino?" And I did not. So she hooked me up with John and he explained what the Dino is all about.
IBM has Watson and Watson is the most advanced cognitive computing engine there is. Now IBM has to figure out what to do with Watson beyond winning Jeopardy. One of the things they did was a Mobile Developers Challenge. Elemental Path won this challenge. And they want to bring this Dino to market before Xmas.
Elemental Path started a Kickstarter campaign for CogniToys to get in touch with interested people. What you see in the photo above with John is a very early prototype.
So what is the Dino going to do? It is going to be toy that speaks to a child, answers all or most of his questions. The child presses the big button on its belly and the Dino will listen. It connects to Watson over Wifi and will speak Watsons answer. There is a dialog engine developed my Elemental Path and a body of knowledge within Watson. The Dino knows what it has spoken about and will store its state in an encrypted cloud storage. Think of it as a computerized Montessori teacher. There is parental supervision and you can rule out certain topics you don't want your child to discuss, even if they are in the body of knowledge. The Dino will divert those questions with an answer like "I don't know. Ask Mommy."
I see a lot of potential in these connected toys. And I can see people going batshit crazy about supposedly bad parenting.
by Volker Weber
If you have been reading vowe.net for a while, you may have noticed that I enjoy music via SONOS players quite a lot. And there are a lot of players. If you are still sitting on the fence, here's how to get started.
Start by buying two PLAY:1. Not one. You need two to get the full experience. First you place them in two different spots in your home. Learn how they can play different tracks from the same source. Link the two zones to play the same music in sync. Add a few free music services like 8tracks, Soundcloud, The Hype Machine. Play your own tracks from your mobile, from Google Play Music or your Amazon purchases right from the cloud. Add a music library in a file share from your NAS or your computer. Create a stereo pair from your two PLAY:1 to experience stereo sound and find out if you think that is important.
If you like your PLAY:1s then buy a PLAYBAR. Hook it up to your TV and experience the sound quality in movies and TV series. Play all your music through the PLAYBAR instead of your old stereo. Put that stereo away after a while when you find you are no longer switching it on. On movie nights fetch your two PLAY:1 and configure them as back channels for true surround sound. After the movie, remove the back channels and put them back where you got them from.
Buy a SUB. Hook it up to your PLAYBAR and finally hear all of the earth shattering sound track. Enjoy your music in an entirely new way. I know many people who have delayed their SUB purchase only to find out later what they have been missing.
After your completed these three easy steps, you have been infected with the SONOS virus. You will not stop buying more components until you run out of power outlets and places to put them.
by Volker Weber
Lots of things come and go at vowe's magic flying circus. If I would have to name three devices that I touch almost every single day and would not want to be without, it would be those:
The iPhone 6 Plus is the best machine I have ever touched. It's perfect in so many ways that I am scratching my head how it could be improved. It's not only a smartphone but on many days the only computer I touch. It's with me at all times, the screen is big enough for everything, it's a wonderful camera. Although I have an iPad Air 2, it is often ignored. By now I run my presentations off the iPhone, I can write stories on it while on the move, just by adding a Keys-To-Go keyboard.
If I use a "real computer", it's a Macbook Pro with Retina display most of the time. Again, there are plenty of choices, but this notebook just feels right. Great screen, great keyboard. If there is anything that could replace it, it would be another Macbook.
The Dyson DC62 has become essential ever since the dog moved in with us. I cannot overstate how convenient this machine is. Very light and powerful, runs on battery, and easily takes care of all the fur the dog sheds every day. It takes me about five minutes to clean the ground floor and I do it once or twice a day.
by Volker Weber
I applaud IBM for trying a new and fresh start with email. Ever since they have shown first ideas at Connect 2013 I was hooked. Everybody has his own pattern how to deal with email. Some people leave everything in the inbox and use the unread indicator to form a todo list. Others file everything in dozens of folders. Can they change their ways?
I have shown demos and the preview to a couple of users and I have tried the preview myself. The reactions have been all over the place. Here is a rundown.
Office worker, enterprise with 100k people: "Today I always keep the enterprise directory open in a browser window. Being able to look up who is who right from the email is a real time saver."
Consultant, large firm with 10k people: "This is a browser app? Completely useless to me. I cannot work on the train or in an aircraft. But this is where I deal with most of my email that cannot be handled on my mobile."
IT person, enterprise with 100k people: "We are on IE8 and migrating to IE11. Only runs on Chrome and Firefox? Then it's not for us."
Owner, 5 person agency with lots of contractors: "I don't know how this could change even a single pattern. We know who everybody is, we don't have profiles. We deal mostly with customers who would not be on Verse".
Freelancer: "I would need to change my email address? Well, then forget it."
IT person, small firm, 80 people: "Everybody at our company hates Outlook. But they can't live without it. I am not moving their cheese."
Office worker, medium firm, 150 people: "We don't do much in email. We have SAP. At home, I have my friends on Facebook."
Freelancer: "I set up a trial account, but it's empty. Cannot find a way to get anything in there. Why would I bother? I have my mail on Google and I can login to many places. What is IBM offering that I don't have".
The list goes on.
My current thinking is that if your company looks like IBM, you may be able to profit from Verse. It's certainly better than just plain iNotes. If it comes down to Verse vs. Office 365, then it's going to be Office.
Freemium is a neat idea to seed Verse. But without being able to move in with all their belongings, people will look at it, send a few mails, shrug and leave. A few weeks later they will have forgotten they ever signed up. If IBM does not want to fall for their own propaganda, they won't count the number of sign-ups but the number of messages sent and the number of people who check their inbox every few hours.
by Volker Weber
Elektronische Geschenkgutscheine und Guthabenkarten sind beliebte Geschenke, jedoch vor Missbrauch kaum geschützt. Mit ganz simplen Tricks können Gauner deshalb auf fremde Rechnung shoppen gehen.
by Volker Weber
Check for the latest 10.3.1 update.
by Volker Weber
This also did not make sense, but it was cool.
by Volker Weber
CSV import does not cut it. No contact photos. You need to talk to Gmail, Outlook.com, LinkedIn, Xing, etc. And you want vcard import.
Maybe somebody wants to change that 'IBM SmartCloud Note web client' into IBMVerse.com.
by Volker Weber
Add your MP3s to OneDrive so you can play them on your PC, phone, and Xbox.
Now I know what I can do with my TB of unused storage on OneDrive. Time for Sonos to integrate Xbox music.
by Volker Weber
In an exclusive Q&A, the current CEO discusses the Watch, how Steve Jobs informs Apple's future, and how Apple lives 'outside the box.'
by Volker Weber
Francie complained recently why we can fly to Mars but cannot build great headsets. Well, we can, better: Plantronics can. You just have to choose the right one. If you are looking for a great Bluetooth headset, look no further than Voyager Edge. It's is incredibly light and comfortable and provides great sound quality. (If you have an older Voyager Pro or Voyager Legend, there is no rush to update.) These headsets have a long boom that has three microphones, which let the software focus on your voice and dial out the background noise.
Somebody recommended the BackBeat Pro, but that one has a different design point. It's built to suppress noise and let you listen to music while traveling. It's not a great headset for phone calls, because it does not provide noise cancellation on the microphone and cannot focus on what you say.
I brought a new headset back from CeBIT, and that is yet another design. It's built to work with your PC or Mac. You plug it into USB so you never have to worry about a battery. It sits very comfortably on both ears and suppresses noise, much like the BackBeat Pro does, yet without isolating you too much. On your ears, not over your ears. And it has a beam with multiple microphones so it's great for phone calls. There is an inline control for mute, call and volume control. The only thing this particular model is missing is Bluetooth access to your mobile, so that it could be used with both PC and mobile.
I made a few phone calls, both via a softphone as well as Skype, listened to music in iTunes, and I was not disappointed. I have yet to find a bad Plantronics product. The only thing I could not yet get to work is call control. Volume and mute work fine, but I cannot make or break calls with the button. Need to investigate more.
Who wants this? Everybody who works in a noisy open plan office environment, wants to listen to music on his PC or streaming across the Internet and spends long hours in telephone conferences. With active noise cancellation both on the receiving and sending channel, the Blackwire 725 is also great if you work from your notebook in Starbucks or while traveling. Plantronics provides a nice pouch to keep it safe in your bag.
If you think you know headsets but have never tried one of those, you don't know. ;-)
by Volker Weber
by Volker Weber
Last night I got a text from IBM PR: Jeff wants to talk to you tomorrow at 9:15. I just got out of this meeting. It was the best 20 minutes we ever had together. Very candid and open, and almost everything was off the record. But I can put a few concerns to rest:
IBM Verse will "ship" this month.There will be a paid offering and a free one. I hate the term "Freemium" for a product and I learned that some of Jeff's team think alike.
The mail jail limits we have seen so far will change, up at least tenfold. IBM wants to keep the impolite people out, not limit your use of the product. IBM knows they got it wrong initially.
Obviously I cannot pre-announce IBM offerings, but there will be a couple of announcements around Verse and cloud that sound very compelling to me.
There is no change in plan. IBM is not going to dump "freemium". There will be a free-to-use Verse and it will not be a "preview". It will be the real thing.
IBM has a lot of options to turn features on for the free version of Verse. I am mostly concerned about the onboarding process. How do you get your contacts into Verse for instance.
One big correction. Some people have floated a '500 million' number. That's off by three orders of a magnitude. 500 is correct, but you should have said thousand.
by Volker Weber
Comment from Jane Wilson - IBM Verse Offering Manager:
Thanks for your candid feedback. These limits were put into place to ensure a strong, stable environment as we ramp up, and to protect users and others from spammers. Your feedback is definitely being taken into account as we continue to rapidly iterate the preview environment. Please watch the Verse Preview forum for more specifics in the next week.
IBM got your message. Now that we have compared limits in competing offerings, there may be changes.
by Volker Weber
Why does IBM store my password in a way that it could be exposed? And how are you supposed to trust a cloud service with holes this size? Let's investigate what we can find out from this email:
we were made aware that an error existed in our user authentication process that temporarily made user registration information potentially accessible to other users of the service
Somebody found this hole and told IBM. The hole is in the onboarding service. That's the one that could have taken a day, remember? From the outside, this looks like IBM is taking the form with everything you enter, name, password, mail address, phone number etc. and does not safely create a directory entry where the password would be hashed. Instead this is put into a queue to be processed later, maybe somewhere else. Going out on a limb here, somebody may have found out that he could dump that queue onto his computer.
What really bothers me: I have rolled out big a$$ services myself. And there were security reviews out of the wazoo for this kind of process before you could take it live. Never in your life would you have survived with a design that stores passwords in clear text.
Does. Not. Compute.
by Volker Weber
Neulich in Belgien:
"Haben Sie WLAN?"
"Na klar. Für alle Gäste natürlich kostenlos."
"Und was muss ich machen, um da rein zu kommen?"
Ungläubiges Staunen. Der Gast weiß nicht, wie WLAN geht.
"Also, Sie gehen in Settings, wählen Wifi, dann den Namen des Hotels."
"Jaja, und dann?"
"Wie, und dann?"
Willkommen in Belgien. Es gibt kein "und dann". Das war's. WLAN auswählen und fertig. Einfach so. Keine Registrierung, kein Schlüssel, kein Voucher, nichts. Einfach WLAN. So wie Wasserhahn oder Steckdose. So schwer kann das doch nicht sein.
Der Gast kommt aus dem digitalen Deppenland. Wo es eine Rechtsfigur gibt, die den Hausbesitzer für Straftaten haftbar macht, die in seinem Haus begangen werden. Nein, nicht Taschendiebstahl. Da muss man den Dieb ermitteln, da reicht der Hausbesitzer nicht. Aber digital, ja, da muss er natürlich haften.
Das Deppenland hat auch eine Auskunftspflicht zur Verwendung von IP-Adressen. Wurde angeschafft für die Verfolgung schwerster Straftäter, also Terroristen und Kinderschänder. Wer sich schämen will, kann ja mal nachforschen, wofür diese Auskünfte tatsächlich erteilt werden. Massenhaft.
Und jetzt legt Siggi Pop einen Entwurf vor, der Deppenland noch depperter macht.
by Volker Weber
Default browser on Windows: Internet Explorer. Meep. "Not certified".
Default browser on OS X: Safari. Meep. "Not certified".
This is not the Enterprise. You don't get to pick browsers.
by Volker Weber
While in Orlando I had the opportunity to interview Jeff Schick, General Manager IBM Enterprise Social Solutions, and let him lay out his plan in his own words. You can watch the full interview here.
Jeff was very clear about the intended throttling of Verse in the "free" part of freemium. My only beef is that there is no "freemium version". Feemium is not a version but a pricing strategy. Give something away that makes people hungry for more. And I believe IBM has not yet found the right balance, where the free version is interesting enough to actually use it, before one decides to sign up for the premium version. Typical conversion rates are in the single digit percentages for those companies that execute the strategy well.
What I have seen so far in the preview does not convince me that IBM can execute a freemium strategy. There is simply too much missing, the biggest elephant in the room would be import from other accounts, especially calendar and contacts, but also email. When you can only import contacts as CSV, there is no way to import photos for those contacts. These are my most important contacts:
That's just one tidbit and I could go on and on why this does not make sense. You cannot win against GMail by being a bit better. You have to be three times better. Ask Microsoft re: Outlook.com.
Using Verse in the enterprise, where you have a directory, profiles and migration tools, is a different story. The freemium model does not get you there.

by Volker Weber
This security notice addresses the OpenSSL "FREAK" vulnerability that was disclosed on March 3, 2015. BlackBerry is diligently working to investigate the vulnerability and to determine how best to mitigate customer risk. Investigations are still ongoing, but confirm that BlackBerry products are impacted by this vulnerability. We will update this security notice as new information and fixes become available.
by Volker Weber
I have no data for Tuesday and Wednesday because I don't know how to operate the software. I left my Withing Activité behind and checked the "I forgot my Pulse" checkbox. Healthmate counted the steps with my iPhone but then obviously did not transfer the data into my account. Now I disabled Activité and it would not read all data from the iPhone for today.
Activité is going back to the agency. It's elegant, it works well, but I need buttons and things.
Well, I know there are 35 km missing and I am just going to add them to my spreadsheet. ;-)
by Volker Weber
Outlook.com:
Send up to 300 emails in a 24 hour period.
Send mail containing up to 100 recipients per email.
Send mail messages up to 10 MB in size or use OneDrive.
Have a mailbox without quota.

Gmail:
Send up to 500 emails in a 24 hour period.
Send mail containing up to 100 recipients per email.
Send mail messages up to 25 MB in size or use Google Drive.
Have a mailbox quota of 15000 MB.
Verse:
Send up to 25 emails in a 24 hour period.
Send mail containing up to 10 recipients per email.
Send mail messages up to 100 MB in size.
Have a mailbox quota of 500 MB.
by Volker Weber
Somebody will create a new account overnight. Update: It only took an hour.
by Volker Weber
Arno Glompner kenne ich seit vielen Jahren als kompetenten Gesprächspartner. Er hat mir schon oft unbürokratisch geholfen. Dann ist er nach Miami gezogen und betreut von dort aus Mittelamerika und die Karibik. Und ist nun zusätzlich auch der Ansprechpartner für deutsche Journalisten. Das ist gut. Arno kennt den deutschen Markt und die meisten Akteure auch persönlich. Ja, er scheint ein bisschen weit weg. Aber spielt das heute noch eine Rolle?
Für mich ist die Kuh damit erst mal vom Eis.
by Volker Weber

Wer soviel durch die Gegend rennt wie ich, der denkt irgendwann auch mal darüber nach, was er so in sich reinsteckt. Eine Zwischenstation ist oft das Hofgut Oberfeld, ein Demeter-Hof, bei dem man leckere Bio-Produkte kaufen kann. Und dann ist da noch das Frühstück. Wird abends zubereitet, über Nacht kommt ein Deckel drauf und ab in den Kühlschrank. Morgens ist es dann fertig.
Rezepte gibt es hier, viel mehr Bilder weiter unten. Oder auf instagr.am/volkerweber.
by Volker Weber
Please help me out here. My understanding is that Verse will cost the same as SmartCloud Notes or Connections. But even there pricing isn't entirely clear to me. Can you enlighten me?
by Volker Weber
Haven't I told you?
by Volker Weber
HERE Maps/Drive/Transit has been one of my favorite app suites on Lumia. Then it became available on Metro, on Android and now I have it on the iPhone. Bliss!
It's defining feature is that you download maps to your device and use them completely offline. And updates are differential, unlike TomTom and other apps on iOS. You can get maps just for your state, for a vacation destination, and if you find yourself elsewhere, you can also use it online.
HERE gives you accurate live traffic information so you don't navigate through that traffic jam. It gives you instructions for your car, all the way down to turn-by-turn instructions. It tells you how to walk to your destination and what public transport is available. It will let you know discretely when to turn corners or exchange trains. In short: this is what I wanted on the iPhone. And now I have it. Hah!
It's an iPhone app, not an iPad app, at least my Testflight app is. Does not matter since I won't be fixing an iPad to my screen or run around with it in front of my head. It normally works in portrait, that's how you hold your phone, right? Drive also works in landscape, so you can fix your iPhone to your windscreen in that orientation. In my car I can put it on the center console like that.
Sign up for a HERE account and Here Maps will sync your collections of favortites between your apps and the website. You can add favorites in your browser and use them in your mobile.
Best of all, it's free.
by Volker Weber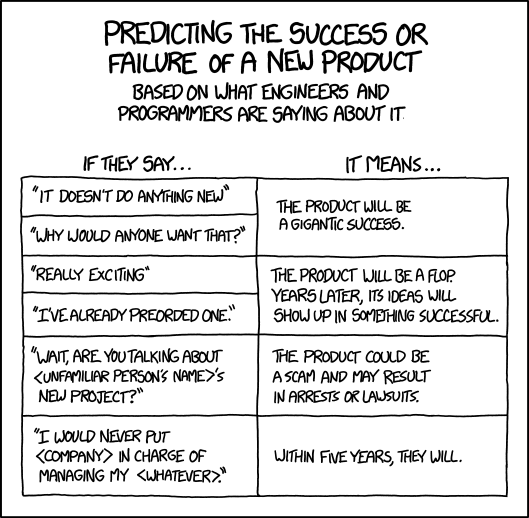 XKCD 1497 (CC BY-NC 2.5)
[Thanks, John]
by Volker Weber
Last year, the German PR person left to work for his old company again. There was no replacement. BlackBerry is not recruiting, the headcount was scrapped.
BlackBerry had a good agency, which was scrapped the day after the Classic launched. No other agency has come forward to introduce itself. I assume there is none.
This is an upcoming event on BlackBerry's news page. It still lists Thorsten Heins as the CEO:
I am getting press releases forwarded from a different country now. If I ask a question, I am getting a reply indicating that the PR person is investigating. That's it.
A few weeks ago I was asked for my shipping address, which is very public. BlackBerry has used it many times before but knowledge about it may have been lost. Nothing has shown up at my door.
I used to know the Executive Director for Europe. The person has since left the company. The position has been scrapped. No way to escalate.
This ship is going down fast.
by Volker Weber
If this is even remotely true, I understand why IBM does not let me have early access to the beta.
by Volker Weber
Christy Turlington instead of Glassholes. Fashion instead of geeks.
by Volker Weber
Bildschirmflickern beim Passport und Performance-Probleme bei Z10 und Q10, den Geräten der ersten Generation, veranlassen BlackBerry, den Rollout der Betriebssystemversion 10.3.1 zu unterbrechen.
Der Passport-Fehler war vermeidbar, weil viele User das schon bei den Leaks moniert haben.
by Volker Weber
Apple verkauft nun auch Armbanduhren - und die Technikwelt hyperventiliert. Jan-Keno Janssen hingegen kann sich für die Apple Watch nicht erwärmen: Für ihn gibt es keine bessere Smartwatch als die minimalistische Pebble.
Ich mag die Pebble auch. Aber ob sie wirklich besser ist, das will ich erst beurteilen, wenn ich die Apple Watch auch selbst benutzt habe.
by Volker Weber
In case you don't have Facebook, Ed broke the news yesterday:
Now he needs to get on Verse himself. ;-) I tried, but IBM wouldn't let me so far.
by Volker Weber
As I wrote yesterday, the Withings Activité is the opposite of a Microsoft Band. It does very little and in a very good way. What I did not mention: it is waterproof to 5 atmospheres. If you are not wearing the leather strap, you can dip in the pond after your morning run without worrying about the watch. I found only one flaw: it does not work in the dark. No fluorescent hands, very low contrast.
Microsoft Band on the other hand is the all singing all dancing fitness tracker. It even has autonomous GPS. It has many flaws, some of which can be fixed in software. The biggest one is that it is not waterproof. I'd like the display to come alive when flicking the wrist so you don't need to use two hands.
Having seen both ends of the spectrum, Pebble is still winning. I want notifications that I cannot get from Activité. I want waterproof, which I can't get from Band. I want the display to be on all the time. I want to be able to read it in the dark. I want to customize the watch face to show me the information I need. I want to be able to quickly check the outside temperature. In short, I want buttons.
Pebble is the only smartwatch winning the editor-refuses-to-give-it-back award.
Now, for that Apple watch ...
by Volker Weber
Last Friday evening, when I walked the dog in the evening I could not help but notice the full moon behind clouds over Darmstadt. I pulled out my iPhone 6 Plus and shot a single frame. f/2.2, 1/4 s, ISO 500. Those were the settings iPhone chose in full automatic. The photo turned out beautifully, but I wasn't satisfied.
Upon my return home I got the Lumia 930 w/Denim and went back for another shot. Much to my surprise the photo turned out worse than the iPhone. f/2.4, 0.3 s, ISO 1600, that's what the Lumia went for. I tried a few settings but could not get anything close to the iPhone's photo.
The next evening I returned with the mighty Lumia 1020 w/Cyan. No noise, but I was unable to capture anything even close to the single shot the night before.
That little light in the front? That's the dog. She is too fast for a 1/4 shot. ;-)
by Volker Weber
Today we are rolling out Android 5.1 - an update to Lollipop that improves stability and performance and offers a few new features like support for multiple SIM cards, Device Protection and high definition (HD) voice on compatible phones.
Now device manufacturers will have to start all over.
by Volker Weber
This is what I am really excited about. I spend a lot of time on my Retina Macbook Pro. This is lighter, smaller, and would provide the same functionality. USB Type C connector for everything. What if that would replace Lightning on all future iPhones and iPads.
by Volker Weber
I can't help but chuckle when I see tech bloggers discuss Apple watch prices. This is no longer tech territory. Apple is offering loads of options to "express yourself". In watch territory that means you show your wealth.
If you want an Apple watch because you like its functionality, you get a Sports in your proper wrist size. It's the 16 GB iPhone 6 equivalent.
If you want to show that you really don't care how much it costs, you get the stainless steel watch with link bracelet. If you don't, you will lose when everybody puts their dick on the table. It's the 128 GB iPhone 6+. On steroids. With only 16 GB, because all watches share the same features.
An Edition watch is only for you if you don't really need to know how much it costs. People of lesser wealth will tell you it's only for pimps, sheiks, Russians or who else they secretly envy. If you think a $11,000 watch is expensive, you have no idea what an 18 kt gold bracelet would cost. Before you add diamonds.
There you have it. What's your message?
by Volker Weber
Before we all go crazy about the Apple Watch tonight, I would like to talk a bit about the Withings Activité. This is a fine watch that also tracks your motion. And your sleep. It wakes you up in the morning. After a future software update it might also track your swimming.
But most importantly, it is a fine watch. Only a few people will notice that it is also a connected device. Let's compare this for a second with a Pebble Steel, my favorite smartwatch.
The difference is striking. No charge connectors, no buttons, not even a crown, just very thin and elegant. It is as reduced as it can possibly be. Form and function are one.
What does Activité do besides showing the time? It automatically adjusts the time by talking to Withings Health Mate on your smartphone. When your smartphone changes time zones or adjusts the time, so does Activité. That's why there is no crown on the watch. You also set your alarm time in Health Mate. In the morning Acitivité will vibrate 12 times to wake you up. You can't cancel the alarm on the watch itself, you can't snooze it. No buttons, remember? The only thing you can do is tap the watch twice and it will adjust the hour and minute hands to show you the alarm time you set.
When you go to sleep, it will track your sleep. You don't have to switch modes. Activité does it all by itself. Same thing in the morning. It does not yet track swimming - this will require a software update. But it discovers running, I assume by the faster cadence.
You set your step goal in Health Mate and Activité will show your progress from 0 to 100 %. When you exceed your goal, the dial goes back to 0 and starts counting again. Much like the minute hand travels around the watch each hour. There is only one thing you need to do: open Health Mate on your smartphone once a day to sync data. Activité only holds 36 hours of data.
Acitivité comes with a leather band and an additional sports band. You can swap bands without tools. And it comes with a spare CR2025 battery. Withings promises it lasts eight months or more. No charging, just wear the watch and sync once a day. That's it.
Acitivité is the opposite of Microsoft Band. Thin and light. Always on. No charging. No apps. No notifications. No email. No texts. Just a watch that motivates you to keep moving and watches over your sleep. If you are not attached to your smartphone, if you can go for hours without checking your email, and if you want to do that while tracking your active life, this is what you get.
At 390 € it is quite expensive. If you want the same functionality without the fancy glas, steel, and leather there is a cheaper option: Activité Pop sells for 150 €. While the more expensive option is almost flawless, I am reading reports that Pop has some issues. Check them out before you buy.
by Volker Weber
Great read on why sitting is the new smoking and why everyone should go for walks https://t.co/hDjxaCkES1 Reminds me of @vowe

— Ben Lampe (@herr_lampe) March 7, 2015
Ben found this great story on walking and it resonates well with my experience of the past year. I started walking because I needed to. Then I developed an interest in fitness trackers, and finally (and most importantly) I befriended a dog.
The more I walked, the more productive I became. If I want to talk to somebody I ask them to walk with me. This week I walked with Max, twice. He knows everything about Pebble and quite a bit about iOS development. I walk with Ute a lot and she tells me what happened in her work day. And I walk alone. Time to think, hardly any distractions, aside from alerts or the occasional phone call.
The weather was brilliant this week. And on Wednesday I set a new goal: walk four Marathons. That's 4 times 42 kilometers and 195 meters. 168 kilometers and 780 meters for the whole week. On Saturday I needed to take some night shots with Lumia cameras - that is another story. Since I started too early, I had to wait for moonrise. Waiting meant walking. 35723 steps is a new record, up by about 4000 from last Thursday. On Sunday I had exceeded my goal for the week.
This week was extreme. If you push yourself to new levels once in a while, you start building more strength. More strength equals more muscles. Muscles burn calories. I am going back to my 100 km routine tomorrow, which puts me back into the 1000 calories active burn range. That is 700 calories more than I had before walking. Every single day. And that's why weight loss happens. If you know me, you can see that it was significant.
The changes over the last eleven months have been very uplifting. I am stronger, leaner, and I feel younger. Walking is a very mild exercise. Almost anyone can do it. And everybody should, at least 30 minutes a day.
Initially I could hardly walk at all, due to an injury at CeBIT 2014. Six weeks after the event I started with just a walk around the block. Then two, then three. First you build up strength, then endurance. Take your time, don't start too quickly. For a long time, my goal was 6500 steps a day. And I did not meet it every day. When I did, I raised it to 10000. And when I made that every single day, I added another goal: 100 km a week. 19 weeks in, I have not missed that goal.
Today I passed 3 million steps on Withings Health Mate. That is about the same number of steps I walked with the UP24 band I used before Jawbone added an "intelligent coach" -- think Clippy -- to their software. 6 million steps in less than a year. If you would have told me a year ago, I would have called you a dreamer.
By now, I could walk a Marathon a day. Walk, not run. After about one year, building up from zero. Come walk with me.
by Volker Weber
I saw something the other day that is unfortunately rare these days, a company HAPPY with IBM/Lotus Notes.
Read his conclusion.
by Volker Weber
BitTorrent client uTorrent has come under fire from users after it emerged the software's latest update comes bundled with Bitcoin mining software. The piece of software, named Epic Scale, is a Bitcoin miner that purports to use your 'unused processing power to change the world.'
by Volker Weber
by Volker Weber
You can only watch it live. And then it goes away. This should be fun.
by Volker Weber
In this second issue of Insights on Adoption, you will find:

- Opening Remarks
- Going Beyond Adoption 101
- The Adoption Challenge for IBM Connections
- Adoption Strategies for Unified Communications
- Let's Work Together in 2015
- Resources on User Adoption

I invite you to download your copy of Insights on Adoption. It is free, and registration is not required.

Please visit http://michaelsampson.net/useradoption-insights/ to download your copy.
by Volker Weber
Today I have finally closed the lid on the Google+ coffin and nailed it shut. My last posting was from two years ago, but once in a while I came back to lurk, much like I do on Facebook.
And then Google decided to add all my circles to my address book. Hundreds of people I don't need in there. A quick visit to Google+, delete all circles, farewell. It's not astonishing that they keep shooting themselves in the foot. But the speed at which they reload ...
With Google+ dead, Facebook smelling funny with irrelevant click bait, I find myself looking at Ello for inspiration and Twitter for news. I post to Instagram and look at Imgur for fun pics.
by Volker Weber
This looks much better than before. Without scaling:
by Volker Weber
Well, @oracle, this is just one of the reasons why everybody hates you. pic.twitter.com/i1r7F89i8u

— Volker Weber (@vowe) January 23, 2014
Latest innovation from Oracle: add crapware to Java installer on Mac. Simple consequence:
by Volker Weber
Welcome to the new and modern Office for Mac! You will receive regular updates automatically until the official release in the second half of 2015.
Office for Mac 2016 Preview is now available to try for free and includes Word, PowerPoint, Excel, Outlook, and OneNote. OS X 10.10 Yosemite is required.
Update:
It installs alongside Office 2011 which remains operational. Office 2016 will need an Office365 subscription once it ships. If you don't want this, use Apple's office suite which remains free.
by Volker Weber
by Volker Weber
Bloatware is a bigger headache on Android phones than it is on PCs for multiple reasons, says Irfan Asrar, a researcher with mobile security company Appthority. "Not only is it harder to remove (every time you do a factory reset it will come back), but it's costing you resources such as data usage and battery drainage as well as pushing the boundaries on privacy," he said in an email to WIRED.
by Volker Weber
When Pebble introduced the Time last week, many complained that it may look cheap. But I knew something was afoot for Mobile World Congress. And here it is. Pebble Time Steel. Not only does it look more expensive, its battery is also good for up to 10 days. That alone is reason enough for me to want one.
Don't worry, if you supported Pebble Time through Kickstarter. You can upgrade to Pebble Time Steel and keep your spot in the queue.
by Volker Weber
There is an update for your Sonos. New controllers for Android and iOS. They make better use of screen estate and give you faster access to your rooms. There are two new swipe gestures. Swipe down to go back to your search results and swipe right from the left side to go to your sources.
by Volker Weber
I am the first to admit when I made a mistake. You may know that I made a bit of fun about Sonos doing limited edition speakers. Sonos wasn't offended. They just sent one my way. And it's beautiful.
The PLAY:1 Blue Note celebrates 75 years of Blue Note Records, an American jazz record label, established in 1939 by Alfred Lion and Max Margulis. Francis Wolff became involved shortly afterwards. It derives its name from the characteristic 'blue notes' of jazz and the blues.
The bespoke PLAY:1 is painted in two different hues of blue. And it's not just the speaker grille that is painted. The top is a darker blue than the bottom, and the grille fades from one color to the other. Even the power cable is blue and not the standard fare black.
Sonos is selling the Blue Note speaker in limited quantities. 4100, half of them in Europe and the other half in North America. You can't buy them through dealers but only directly from Sonos.com. It goes on sale on March 5 at 10:00 CET in Europe. In North America it will be available 7 hours later at 1pm EST.
And this isn't going to be the only limited edition. If you want to collect them, you need to start now. ;-)
by Volker Weber
Wir starten das Jahr 2015 mit unserer 60sten Ausgabe und einer neuen Auswahl an großartigen Künstlern und neuer, frischer Musik. Wie bereits mit unserer "Best of 2014" Compilation angekündigt, präsentieren wir heute nicht nur einfach die neue Ausgabe des Mercedes-Benz Mixed Tapes, sondern stellen auch ein neues Format vor. Die Mixed Tape Compilation wird von nun an alle acht Wochen als gemixter Podcast zum Gratis-Download erscheinen. Zwischen den Compilations werden die einzelnen Tracks als limitierte Gratis-Downloads verfügbar sein.
Mercedes macht es kompliziert, die Tracks herunter zu laden. Wenn sie wieder zum alten Format zurückfinden, werde ich berichten. So lange kann man das Mixed Tape am besten als Podcast bei Soundcloud hören. Das geht auch wunderbar mit Sonos.
Einfach einen kostenlosen Soundcloud einrichten und in Sonos eintragen. Dort dann nach "Mercedes" suchen und schon findet man die Mixed Tape Podcasts und andere Tracks.
by Volker Weber
Don't smoke. I did. Wish I never had. LLAP

— Leonard Nimoy (@TheRealNimoy) January 11, 2015
'Smoking Kills' is more than just a catchy PSA or smoking cessation campaign slogan - it's verifiable fact. Since the mid-1900s, study after study has generated compelling evidence linking smoking to increased mortality rates. Arguably, the most influential of these is the 1956 publication of smoking data on the 'British Doctors Study', which presented compelling evidence that over half of smokers would eventually die due to smoking-related complications. A new study published in BMC Medicine asserts that this mortality rate may even be as high as 66 percent, meaning that two out of three smokers will eventually die from conditions associated with their smoking.
by Volker Weber
The 640 XL looks like an interesting compromise. 5.7" screen with a low HD resolution, expandable storage, replaceable 3000 mAh battery and shell, 13 MP camera, all of that in a midrange device for 189 € (3G) or 219 € (LTE), plus taxes minus subsidiaries. There is also a smaller 640, 139 € (3G), 159 € (LTE), with 2500 mAh battery and 8 MP camera. I would choose the XL any time.
by Volker Weber
18 Wochen mit mehr als 100 km und mehr als 10000 Schritten am Tag. Ohne Ausnahme. Mehr als 2,2 Mio Schritte, mehr als 2000 km.

— Volker Weber (@vowe) March 1, 2015
Anfang November habe ich mir ambitionierte Ziele gesetzt, um mein Laufprogramm über den Winter zu halten. Jeden Tag mindestens 10.000 Schritte, pro Woche mindestens 100 km. Das Tagesziel ist leicht zu erreichen, zur Not laufe ich einfach 90 Minuten "rund Bessungen". Das geht selbst bei Eis und Schnee oder eisigem Wind. 100 km pro Woche ist schwieriger, weil das entweder 15 km am Tag sind. Oder realistischer, mindestens zwei Tage mit 20 km. In einer Woche habe ich mal probiert, was geht, wenn ich am Anschlag laufe. Ergebnis: 160 km.
Ich habe durchgehalten. Seit 18 Wochen ohne Ausnahme, egal wie stark der Schnupfen war. Frische Luft hilft. Die Ziele sind realistisch, so kann ich weitermachen. Rechnerisch macht das 5300 km im Jahr. Mit den 25 %, die ich aktuell über dem Ziel liege, werden es wohl eher 6000 km. Im Sommer ist das sowieso viel einfacher.
Wenn das jemand nachmachen will: ich habe nicht mit diesem Tempo angefangen. Vor einem Jahr habe ich nicht mal 1.000 Schritte am Tag geschafft. Erstes Ziel waren 3.000, dann 6.500, dann nach langer Zeit 10.000. Der Körper braucht Zeit. Dem Kreislauf geht es schnell gut, die Muskeln brauchen etwas länger, die Gelenke noch mehr. Anfangs hatte ich Probleme mit Blasen an den Füßen, aber das ist vorbei. 100 km pro Woche ist übrigens brutal viel. Keiner der Supersportburschis in meinem Freundeskreis schafft das.
Was hat es gebracht? Ich fühle mich rund zehn Jahre jünger als vor einem Jahr. Aus einem schweren Übergewicht ist ein leichtes geworden. Noch ist jede Menge Speck vorhanden, aber ich habe ja nicht vor, anzuhalten. Der Hund ist bestens trainiert, die Scheffin ist auch zufriedener mit sich. Kann so weitergehen.
Update:
Einige haben gefragt, wieviel Zeit ich aufwende. Antwort: zwei bis zweieinhalb Stunden täglich. Und zwar ohne anzuhalten. Damit komme ich über 100 km pro Woche. Mit 5 km/h habe ich angefangen. Nun bin ich meistens bei 7. ;-)
by Volker Weber
I am not entirely happy with the 10.3.1 update. Just to make sure I haven't inherited any bad configuration, I am wiping may favorite BlackBerry and see how it goes after that. The Passport definitely has a flicker problem. BlackBerry has acknowledged the issue and is testing a fix.
Wiping and reinstalling a smartphone might sound like a nightmare for you. I like the smell of a fresh device.
Update:
Wiping has cured my battery problem. Worth it.
by Volker Weber
Dr. Michael Spehr hat vollkommen recht. Wozu müssen Facebook und Co mein Geburtsdatum wissen?
by Volker Weber
BARCELONA, Spain, March 1, 2015 /PRNewswire/ -- Global home furnishings retailer IKEA today announced a product launch of Qi-powered bedside tables, lamps and desks that eliminates cable mess and makes it easier to stay connected with always-charged mobile devices. IKEA said the wireless charging home furnishings will be available in Europe and North America this April, followed by a global rollout.
That's the final push Qi needs. This will work with Microsoft Lumias as well as several Android handsets.