July 2005
by Volker Weber
Playing with the LifeDrive I just discovered an application on the software CD that accompanies the product. It solves a glaring omission of the Files application on the LifeDrive. WinFile LT lets you access files on SMB shares across the WiFi network.
It works rather nicely and you may be tempted to buy the full product rather than the LiTe version. However, some marketing genius has decided the customer needs a bit of bullying. Before you can connect to a share, you have to enter your credentials and this genius has decided that you can only use the option to save a password after registering the free product (or the one you just bought with your LifeDrive):
When you decide you want to do that, you get a form that has all the spam options coveniently switched on. Let's hope the customer is stupid enough not to ask for your valuable messages:
OK, now let's get over this and fill in two fields, uncheck the two boxes and hit register. The program connects to the networks, attempts to post the form and fails miserably:
This of course is an engineering problem, isn't it, Mr. Marketing Genius? What do you think solves the problem faster? Talking to your company or getting a "fixed" copy of your software from the internet? Can you beat 10 seconds?
by Volker Weber
Last week I discovered a new program that lets you play Sudoku on the Palm. The program comes with a database of sample games, but you can also enter a game you found elsewhere, e.g. in a newspaper. You can have the program pencil in all legal moves and it will also color code numbers if you want. I prefer the plain white look as pictured above.
Sudoku is still in development. There have been 10 releases in one month! The program is free but I would suggest a Paypal donation. Australians need ample supply of beer. ;-)
by Volker Weber
Downloading new packages...
Reading Package Lists...
Building Dependency Tree...
The following packages will be upgraded
adminhttpd apache benhur2 heimdal heimdal-kdc libexpat libopenldap2 libsasl2
mod-perl openldap php4 php4-gd php4-ldap php4-mysql php4-snmp php4-xml
php4fcgi php4mod squirrelmail zlib1g
20 packages upgraded, 0 newly installed, 0 to remove and 0 not upgraded.
Need to get 14.6MB of archives. After unpacking 4250kB will be freed.
Get:1 custom://www.ben-hur.de stabletwo/main libexpat 1.95.8-ak6 [72.9kB]
Get:2 custom://www.ben-hur.de stabletwo/main libsasl2 2.1.19-ak41 [182kB]
by Volker Weber
Free calls to any regular phone in: Australia, Austria, Belgium, Canada, China, Czech Republic, Denmark, Finland, France, Germany, Greece, Hungary, Ireland, Israel, Italy, Luxembourg, Netherlands, Norway, Poland, Portugal, Spain, Sweden, Switzerland, Taiwan, United Kingdom, United States
Free calls up to one minute.
[Thanks, Haiko]
by Volker Weber
Bob Congdon, a very senior architect who most recently has been working on Workplace Designer and formerly was the architect for Domino HTTP and servlets, quits his job to work for Microsoft.
[via Ben]
by Volker Weber
If you are reasonably quick you may be able to catch the new fonts distributed with Longhorn Vista here.
by Volker Weber
Take a look at the Admin Help of Domino 7 beta 4 and you will find something interesting:
DB2 key for access to Domino 7 with DB2

To enable Domino 7 with DB2, use the "DB2 key" that allows access to Domino 7 with DB2. For Microsoft Windows platforms, use NDB2KEY.DLL; for IBM AIX platforms, use libdb2key_r.a.

Add the DB2 key to the Domino Program directory. The default Domino Program directory on Microsoft Windows is C:\Program Files\Lotus\Domino; the default Domino Program directory on IBM AIX is /opt/lotus/ibm.

For more information about the DB2 key, contact your IBM representative.
The beta will let you use DB2. Me thinks this text is not supposed to be in the beta doc and only applies to the final release. Depending on how fast IBM fixes this you may want to take a screenshot.
[Thanks, Mike]

by Volker Weber
Treo #4 arrived today and it was running into the same problems that #3 was facing. I am pretty sure it is not the hardware. The main suspect is Chatter 1.0.6.x. I am now back at 1.0.5.1 and will try and see if it crashes the device. It's now running on a backup chip, while the RAZR takes the phone calls.
Update 30.7.: Had another crash, then when the Treo reloaded I got a brief message from Chatter. Now have removed all traces of Chatter. At least I hope so. #4 has now been behaving itself.
Update 31.7.: I had another crash. No traces of Chatter on the machine, but "Enable local network time" was on. Disabled now. Hey, if I want a smartphone that crashes once in a while I would be running Windows Mobile. ;-)
by Volker Weber
How do you turn a bug in a limited-circulation beta used by just a few thousand people into a full-blown PR crisis that entertains millions?

Simple. You just hand a keyboard to Robert Scoble.
by Volker Weber
The network effect has not yet kicked in for many users of Plazes. But it is starting to work for me. A little hint: Don't name your places "Work". Name them with your company name. The next user on your local network will inherit the place you discovered.

by Volker Weber
Virus - Infection - Spyware - Trojan - Adware
[via NZZ] [Thanks, Andy]
by Volker Weber
Throw 100000 bouncy balls out the window
by Volker Weber
by Volker Weber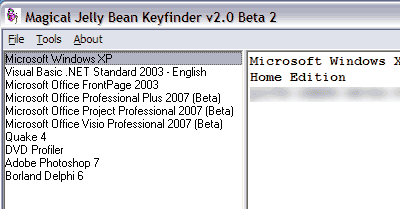 The Magical Jelly Bean Keyfinder is a freeware utility that retrieves your Product Key (cd key) used to install windows from your registry. It has the options to copy the key to clipboard, save it to a text file, or print it for safekeeping.
by Volker Weber
Before pressing 'Custom' or 'Express' buttons paste this text to the address bar and press enter:

javascript:void(window.g_sDisableWGACheck='all')

It turns off the trigger for the key check.
by Volker Weber
Gibt es irgendwelche Organe, die solche brandheißen Neuigkeiten weiterverbreiten?
TLK weiter auf Wachstumskurs: Zwei neue Mitarbeiterinnen in Berlin
Vielleicht hätte TLK besser geschrieben: "TLK schafft Arbeitsplätze: Belegschaft wächst um mehr als sechs Prozent"
by Volker Weber
Subject: IBM/Lotus Response - Redbooks Will Continue
From: Robert McDonald/North Reading/IBM
Date: Thu, Jul 28, 2005 at 07:14 AM

Please allow me to introduce myself. My name is Bob McDonald and I am the Director of User Experience, Education and Technical Enablement for IBM/Lotus. In my role, I am responsible for IBM Redbooks for the Lotus division. I am writing to let you know that IBM Redbooks for IBM/Lotus products will continue and any information stating otherwise is incorrect. IBM Redbooks are widely considered an excellent source of technical information by both our customers and our partners. This fact is supported by the comments offered by many of you in this forum. I intend to include Redbooks as part of the portfolio of technical information you can expect from our organization.

I trust this response puts to rest the misinformation in this forrm post. If anyone has any questions, please do not hesitate to let me know.
Next: New residencies? That is the only indicator I trust.
by Volker Weber
David Bradley describes how he invented CTRL-ALT-DEL, then tries to backpedal after he inadvertantly slams Bill Gates for making it famous.
by Volker Weber
While the Treo 650 is still the best smartphone I ever came across, sometimes a "dumbphone" is better. That is why I am currently using my RAZR. Here is the long story:
I have used three different Treo 650s in 2005. The first one was a whitebox model which I never could write about since it had not been announced yet. It worked rather well, with one notable exception: Signal-to-noise ratio was not good. I had too much hissing and the speaker was not loud enough during phone calls. This turned out to be a software problem that was resolved with a few updates. I have had quite a few crashes with this machine but overall the quality was quite good.
The second 650 replaced this unit when the final version came out. The only visible difference was that the y and z keys were swapped according to the German keyboard layout. Treo #2 worked quite well until I hit a reset loop exactly two months ago. The only way to resolve this was to do a hard reset. Not a nice thing to do when you are not at home. Restoring all the files from backup put the machine back into said reset loop. Argh! It took me quite a while to sort out which file I should not restore.
A few weeks ago the space key on Treo #2 stopped working. If I pressed it really hard I could still get a space, but that is not what you like to do all the time. I quickly checked back with my favorite repair shop for handhelds (don't look anywhere else in Germany) and they would have been able to fix it under warranty. However, I would need to send it in for no less than one week. Did not really want to do that. Then the friendly people who keep me happy with all things Palm offered to replace the unit with Treo #3.
The machine arrived Tuesday and I restored all files from SD card. That was a really bad idea. It crashed left and right. Did a hard reset, hooked it up to Lucy and all was nice and dandy after maybe a quarter of an hour or so. At least so I thought. Then in the evening Ute complained I could not be reached by phone. I told her to try again, looked at the Treo and ... it rebooted exactly when the call came in. Bummer.
I removed all non-vital software from the Treo. All looked fine ... until she complained again that I could not be reached. And I had double checked before. Called from my office phone, called from another mobile. No problem. Ute calls. Chrash! I was furious. Treo #2 had worked for months without any problems, and now this.
After the Treo had rebooted, I tried to find out what was happening. You open the phone app, type #*377 and place the call. The Treo answers with a message stating the cause of the last reset:
That is not really helpful, isn't it? But I have a theory now. I have restored all my databases but not the pictures. Since I had linked Ute's contact entry to a picture, the phone app might be trying to find the picture and then crashes when it can't find it. I have now put a new picture on the phone and linked her entry to that picture. Now I only need to dare putting the chip back in.
Update: I just hit the "on" button and the Treo reset when waking up. Same error message, not related to an incoming call. There goes my theory. If you check Google you will finds loads of problems with this error message. My next candidate is the "enable local network time if available" setting.
It just has reset. There goes the network time theory. Calling Treo #4.
by Volker Weber
I have known Plazes for quite a while but it did not really take off. Now lots of people have discovered it and I think it's time that more people pick it up.
Plazes is a rather neat idea. Using a small tool on your computer you log into the website. The tool checks the MAC address of your default router and tries to find it in the database. If the address is new, the tool asks you to define where you are. Others who are at the same place can pick up how you defined the place. As you move to different networks, Plazes will keep track of where you currently are. It will also tell you who is in your proximity and where your friends are. Voila, location based-services. ;-)
by Volker Weber
Front engine, rear wheel drive, 4 doors. To be on sale in 2009.
by Volker Weber
Charbel Hamaty was charged with sexually assaulting his newborn son, and Teresa Hamaty was arrested for taking sexually explicit pictures. The couple describe the ordeal as a "nightmare" that started over a roll of film that Charbel Hamaty dropped off at a north Raleigh Eckerd. The photo that raised alarms shows a naked Kristoff, now 16-months-old, getting a kiss from his father on the belly button, Teresa Hamaty said.
by Ragnar Schierholz
An advisory by CybSec S.A. released yesterday describes a possibility for users with read-access to the person documents in names.nsf using a web-browser to retrieve the password hash of users. Available cracker tools can then retrieve the plain password. A workaround is described as well, which requries the modification of a sub-form in names.nsf.
This is not the first time, that web-access to the Domino Directory exposes possibly sensitive data. Most conscious admins should have limited the web-access to this database anyways, so the impact of the vulnerability shouldn't be too high. It should rather convince less-conscious admins to lock names.nsf down further (IMHO).
by Volker Weber
Absurdes Theater:
Unbegrenzt und kostenlos mit den Relax-Wunschoptionen ins Festnetz und ins T-Mobile-Netz telefonieren - und das schon ab fünf Euro im Monat
Nix kostenlos. Vielmehr flatte Ratte.

by Volker Weber
Apple updates iPhoto to 5.0.4. The download is 40 meg and there is only one change:
iPhoto 5.0.4 addresses an issue with browsing photos that have been auto-rotated by a camera.
I hope this change makes iPhoto once again usable for me. Since I bought the Nikon D70 and shot a lot of frames, iPhoto has taken up huge amounts of memory and takes minutes to load. I did not really understand what caused the problems. It was not the number of images, since I have older libraries that have a lot more photos. But this is my first camera that auto-rotates portrait shots, so the older libraries don't have this particular type of frames.
My first tests show that update is indeed improving things. Instead of a 1.2 gig working set iPhoto now uses only 360 meg of virtual memory and 60 meg of real memory.
Update: This may have been a bit premature. iPhoto peaked at 930 meg virtual and 370 meg real memory. It's now idling at 660/164.

by Volker Weber
15 free MP3 tracks from Alpaca Heads, Aztec Productions, Bennson, Colonel Red, Cordclub, D'Nell, Flow, Flowarea, Jessica Johnson, Kantorka, Low Budget Soul, Luis, Nikakoi, Roy Ayers, Solar Apple and Quarktette.
[via Manfred]
by Volker Weber
This site has a lot of office guns, built out of rubber band and Mauly clips. The Super Maul shoots a pen through an empty soda can. As with every gun: Don't point at anybody!
by Volker Weber
If you cut through all the "protect the customers" b/s, you get to important part:
Validation via WGA will be required for all customers using Windows Update, Microsoft Update for Windows content, and the Download Center (DC). Security updates remain available to all Windows users - with or without WGA validation - via the DC or Automatic Updates.
This is a good thing. Microsoft is providing support only to paying customers but they are providing security fixes to bootleg copies as well. This is a good measure to protect their business and also providing relief to those who suffer from insecure Windows installations.
by Volker Weber
Vardan Kushnir, notorious for sending spam to each and every citizen of Russia who appeared to have an e-mail, was found dead in his Moscow apartment on Sunday, Interfax reported Monday. He died after suffering repeated blows to the head.
by Volker Weber
Meine Vespa hat einen schleichenden Plattfuß. Also habe ich beim Reifenhändler meines Vertrauens gefragt und der kann leider nur auf Autofelgen montieren. 300 Meter weiter gibt es einen Honda-Motorradhändler. Sehr kompetent und freundlich. Vespa ist nicht seine Marke, also hat er den passenden Reifen nicht vorrätig. Aber er bietet an, den Reifen zu bestellen und sofort zu montieren. Zur Sicherheit machen wir den Termin lieber übermorgen, damit etwas Luft bei der Lieferung ist. Ich bitte mir 30 Minuten aus, um noch mal beim Vespa-Händler anzurufen. Der hat zwar den passenden Reifen auf Lager, aber ü-ber-haupt keine Zeit. Frü-he-stens am 8. August. Wohl hat er Zeit, mich über alle Möglichkeiten des Luftverlustes am Hinterrad aufzuklären. Es scheint ihm aber keine Sorgen zu bereiten, das erst in zwei Wochen zu reparieren. Hallo? Plattfuß? Na, dann macht das dann doch der Honda-Schrauber. :-)
by Volker Weber
Felix repaints his desktop. Done the same this morning. ;-)
by Volker Weber
First Google comes out with Google Maps, then blows away everyone with Google Earth. Now MS innovates with "Virtual Earth". Right? Let's try it out:
Find Apple in Google Maps and in Virtual Earth. It's not yet there, isn't it? However, you may find some buildings that should not be there.
It's probably as pointless as MSN Search when you might just as well use Google.
[via The Register]
by Volker Weber
Konfabulator, which caused quite some Mac envy here on vowe's magic flying circus before it came out for Windows, has been bought by Yahoo. It no longer has to make money on itself:
Let's just get this out of the way... Konfabulator is now free. Yup. If you download version 2.1 you know what you'll never ever see? That's right a registration reminder. Fear not, there's nothing sneaky in there, no spyware, no ads, nothing that's keeping track of information and sending it to us... it's pure, uncut Konfabulator goodness.

Now, we can currently hear the cries of all those people who've recently purchased Konfabulator. Fear not, people, for you will be given the gift of a refund if you purchased Konfabulator 2.0 or later. Revel in the glory of it.
[via tc]

by Volker Weber
[via Michael]
by Volker Weber
[Aus c't 16/2005]
by Volker Weber
Is there any better car show than BBC's Top Gear? A show that pitches an Aston Martin against the TGV or airs a review like the Ariel Atom which happens to lap faster than a Porsche Carrera GT? This week they are looking at hatchbacks:
So, what happens when you put a 2.0-litre turbo-charged engine in a hatchback? It depends on what company did it. If it's VW then you get the solid, rounded performance of the Golf, with a meaty engine that will provide enough thrills to keep you happy until your mid-life crisis. If it's made by Renault, it will look like it was designed by someone who has lost their contact lenses but it will have all the toys onboard you could ever wish for, plus bone-shaking speed. If Vauxhall are behind it, then you get a stunning looking car, with performance far too good for the chassis. Which in turn means you might end up looking out of your side window at a tree that wants to get to know you better.
by Volker Weber
These seven steps will make your PC look like a Mac. When viewed from a distance. Of course it will still be only a PC. :-)
by Volker Weber
As viewed from the Bourne shell >
by Volker Weber
Googlebot runs across lots of directories with MP3 files. Here is how to find them:
intitle:"index of" -inurl:htm -inurl:html mp3
Of course you can add your favorite artist to that search string. If you put the full name in quotes you can make sure Google does not list directories that happen to list other artists that only share the first or the last name. Or you can replace mp3 with other extensions you are looking for.
by Volker Weber
Vnc2swf is a screen recording tool for X-Window (X11), Windows and Mac OS Desktop. Vnc2swf captures live motion of a screen through VNC protocol and converts it to a Macromedia Flash(TM) movie (.swf).
by Volker Weber
by Volker Weber
[via Stefan]

by Volker Weber
Check out trick # 6 in this list of CSS tricks.
On a slightly related note, Microsoft urges developers to prepare for IE 7. This can only mean one thing: The next version is going to be as broken as the other ones. If it would just render the standard, there would be no need to prepare.
Microsoft, please, it is really easy. Make IE 7 adhere to the web standards. Make it compatible with Firefox, Mozilla and Opera. Web developers will start to respect you.
by Volker Weber
Looks like some versatile furniture.
by Volker Weber
by Volker Weber
Apparently Microsoft can get quite some press coverage for announcing the product name for Longhornwait. Eric says:
They say that they're bringing clarity to the world. Because we all know that Microsoft can't do security, so they'll at least give the world clarity.
by Volker Weber
by Volker Weber
Was Leser und PR-Menschen glauben. Ich freu mich schon auf "Kommentarschreiber". ;-)
by Volker Weber

Photo: Henning Störk
by Volker Weber
by Volker Weber
Die Jedox GmbH vergibt ab sofort jährlich ein Stipendium für besonders begabte Studenten im Bereich der Informationstechnologie. Das Stipendium hat einen Wert von jeweils 12.000 Euro.

Dieses Jahr wurde der 19-jährige Abiturient Marek Pikulski ausgewählt, der zum einem das traumhafte Abiturergebnis von 1,0 am Deutsch-Französischen Gymnasium in Freiburg vorweisen konnte und sich zudem durch außergewöhnliches Programmier-Talent bei der Entwicklung von Open-Source Software-Technologien für das Stipendium empfahl.

Schüler oder Studenten, die sich für das nächste Jahr um das Jedox-Stipendium bewerben möchten, können dies ab sofort direkt bei Jedox tun (info@jedox.com). Bewerbungsvoraussetzungen sind Spitzenergebnisse bei Schul- bzw. Hochschulprüfungen sowie mindestens eine herausragende Arbeit im Bereich der Informationstechnologie, vorzugsweise im Bereich der Open-Source Entwicklung.
by Volker Weber
Ladies and Gentlemen, updates your browsers. 1.0.6 is out.
by Volker Weber
by Volker Weber
New investigations by the Saudi Arabian government and an Israeli think tank -- both of which painstakingly analyzed the backgrounds and motivations of hundreds of foreigners entering Iraq to fight the United States -- have found that the vast majority of these foreign fighters are not former terrorists and became radicalized by the war itself.
by Volker Weber
Two weeks ago I solved a very serious problem for a friend of ours. It took me two days to get it finally done. And it would have been worth weeks of work. Usually I do this kind of work pro bono. I have done this many times when I created web sites for friends or when fixing their computers, installing software for them or giving away computers I no longer needed. My friends say "thank you", or "vowe is a good mother". I tell them to pay forward, i.e. do good things to other people.
This time something extraordinary happened: I was paid back. With something I have been longing for for quite a while. A folding bike with full suspension and excellent components as you find them on a racing bike. It is tiny when folded, so it will fit in both our cars:
Folding it takes only a few seconds as you can see in this video. And this is what it looks like when it is assembled. This is by far the best bike I ever owned. Thank you ever so much. For the bike and for the recognition of my work.
by Volker Weber
A month ago I told you the end was near for Lotus Redbooks. Some did not like that and commented I was being unfair. Today I hear that the Lotus Redbook center in Cambridge is closing down for good over the next two weeks. Don't expect a press release.
by Volker Weber
Ambuj Goyal is now General Manager of DB2 and Mike Rhodin will head Lotus. You heard it here first.
[Attention IBM police: Ed is in Australia and probably sound asleep]
by Volker Weber
Langen, 15. Juli 2005: Die DFS Deutsche Flugsicherung GmbH bietet den Bürgerinnen und Bürgern seit heute einen neuen Service. Auf ihrer Internet-Homepage können ab sofort die Flugspuren der An- und Abflüge am Flughafen Frankfurt verfolgt werden. Mit einem Zeitversatz von dreißig Minuten werden die Flüge im Nahverkehrsbereich des Flughafens quasi "live" dargestellt. Auch die Flugspuren der letzten vierzehn Tage sind abrufbar. ... Technische Grundlage ist das System STANLY_Track, das in Zusammenarbeit zwischen der DFS und dem NLR (Nationaal Lucht- en Ruimtevaartlaboratorium - dem niederländischen Zentrum für Luft- und Raumfahrt) entwickelt wurde. Genutzt werden die gleichen Radardaten, mit denen das Flugspuraufzeichnungssystem FANOMOS der DFS versorgt wird.
Dieses System geht zurück auf Anforderungen aus dem Mediationsverfahren zum Ausbau des Flughafens Frankfurt. Die DFS erhofft sich damit eine Versachlichung der Diskussion um den Fluglärm im Umfeld des Flughafens. Ich bin da nicht so optimistisch.
STANLY_Track ist eine Java-Anwendung, die mit Java Webstart geladen wird. Die Abbildung ist von der DFS-Webseite. Das Programm läuft aber auch problemlos auf meinem Mac.
by Volker Weber
Here is a little contest. How long does it take you to parallel park your car? Carl says 2.9 seconds. I stopped at 42.
by Volker Weber
Do you remember the Messerschmidt ME 109 that I photographed at the end of May? About three weeks ago my phone was ringing and I had an inquiry from Paul Verhoeven, yes the Paul Verhoeven. He was looking for a ME 109 that was still flying because he needed one for his next project. I referred him to the owners of this bird, and I have never heard anything since. Of course I did not expect to.
Today I have learned that the Messerschmidt has been destroyed this weekend. Now there is not a single one flying anymore.
by Volker Weber
What an interesting interaction technique. Watch the movie.
[Via Felix]
by Volker Weber
Make sure you read all the comments.
by Volker Weber
Re-enacted by bunnies.

by Volker Weber
Capt. Hajo brings you the world's largest collection of sunshades. Travel southeast from here. Can you name the place without zooming out?
by Volker Weber
Last week IBM announced that they stopped marketing (harrumph) OS/2. By Christmas you won't be able to buy any media, and at the end of 2006 support ends. Of course IBM won't turn away customers who want to buy individual support after that day.
We reported on this story last Friday, and received some 500 comments.
Over the weekend I also received an email from a reader that I have known for years. He was telling me that he is running Domino on OS/2 (end of life'd with R5, Notes with 4.5), that eComStation (an OEM version of OS/2 Warp 4) was going to continue to be being marketed. I believe he wanted to tell me how OS/2 would still be a good choice going forward.
How much more can you possibly be in denial? It has now been ten years since one could see that IBM was going to throw in the towel if you watched really carefully. It has been five years since IBM actually told customers to move on. And here is a consultant who still does not get it.
by Volker Weber
I asked about replacement batteries for my Smart-UPS 1000 just two days ago, and I have learned a lot during that timeframe. I was looking at a SRP of 200+ Euro for what turned out to be a pair of 12V 12Ah batteries. The cheapest I could get them was for 150 plus shipping.
Then Sascha and Joerg suggested I should check with Conrad.de which sold the same spec battery for 50 each, taking the price down to 100. Ahmad suggested Reichelt.de which sell the same kit for 28 each. Today I received an email from Detlev who says that replacing Panasonic with Mc Power gear takes the price down to 17 + vat which is below 20. Can you imagine this? Paying 40 instead of 200 for the same stuff? I will give Zimmermann Electronic a call in the morning and see whether they have inventory of their 24 Eur batteries. That would mean I can pick them up right away and save on the shipment.
Meanwhile Schweppes has given me the Smart-UPS 620 he does not use any more:
It has a lower spec than my device but it could still protect the stuff that I need running: DSL-Modem, BenHur, WLAN AP, NSLU2 and external drives — if it were not broken for exactly the same reasons. The good news is: It only needs one battery instead of two that go into the UPS 1000. With exactly the same spec. So now I am shopping for three batteries and will be able to add more devices later.
Evil thought: Add a 500 W spot. So the next time power goes out, all the others might be sitting in the dark. :-)
by Stefan Rubner
While trying to work through some Web of Trust assertions that have accumulated here, I found that the procedure has changed significantly.
Where it formerly was possible to assert anybody you met (like on a road show or any other event) right away, the applicants now have to explicitly grant access to their details to the notary. While this gives better control over the whole process and is a definite hurdle for fake assertions, it makes it harder to organize signing parties. Also, for this change was made by Thawte without notification to the notaries, I now can't assert some of the people I met.
So, if any of you gave your notarization form to a notary but haven't received any points yet, check whether you already allowed the notary to see your details.
by Volker Weber
by Volker Weber
Tomi Vajda has some really nice pictures.
by Volker Weber
Herrliche Geschichte in der Schweizer Weltwoche:
Die Fernsehserie macht Pause, das Leben nie: Desperate Housewives frieren auch an der Zürcher Goldküste. Hier erzählt die Vollzeitmutter Katharina Wille-Gut aus ihrem Leben mit den drei K: Kreditkarte, Kindergeburtstage, Koitus am Sonntag.
[Danke, Christoph]
by Volker Weber
by Volker Weber
It is now an IPS, which means the battery appears to be wasted. Does anybody out there have a replacement kit, or knows somebody who can get a RPC6 battery really cheap? It lists for 200 Euro and goes for 170. Yikes. Hey, that is only two 12V 11Ah gel batteries.
Update: Ahmad Masrieh has referred me to Reichelt.de who sell replacement batteries for less than 30 Euro each. So I can replace them for less than 60something Euro including shipping. How cool is that?
by Volker Weber
Wenn IBM irgend etwas empfiehlt, dann steckt da jahrelange Erfahrung im An-die-Wand-fahren-von-Produkten dahinter. Wenn IBM Linux empfiehlt, dann sollten die Linuxer lieber höllisch aufpassen.
— Stefan Milcke
by Volker Weber
Following the tragic events on Thursday 7th July 2005 Visual IT would like to express their deepest sympathies and condolences for all those that have been affected.

This special version of Tube 2 London has been released free of charge to help Londoners get back to normal as quickly as possible. It has been amended to reflect all the current service changes on the London system.

Note only versions for Palm OS, Pocket PC OS & Symbian UIQ are currently available.
by Volker Weber
No matter how hard I try, I cannot imagine this kind of warning sign in a different language. :-)
by Volker Weber
by Volker Weber
jetzt bekomme ich auch noch ein schreiben ihres ko-kumpels dentler, der mir mit dem einsatz einer hamburger anwaltskanzlei droht, falls ich nicht sofort zahle. jetzt reicht es. ich erwarte sie am kommenden samstag, punkt 12 uhr, vor der "roten flora" im schanzenviertel.

nehmen sie 8-unzen-handschuhe, ihren sekundanten und einen sanitäter mit. und vor allem: nehmen sie sich reichlich urlaub, den werden sie für ihre genesung brauchen.
by Volker Weber
From the Apple knowledgebase:
To configure a Mac OS X user account so that .DS_Store files are not created when interacting with a remote file server using the Finder, follow the steps below. Note: This will affect the user's interactions with SMB/CIFS, AFP, NFS, and WebDAV servers.
Open the Terminal.
Type: defaults write com.apple.desktopservices DSDontWriteNetworkStores true
Press Return.
Restart the computer.
by Volker Weber
Mozilla/5.0 (Macintosh; U; PPC Mac OS X Mach-O; en-US; rv:1.7.9) Gecko/20050711 Firefox/1.0.5
I hope this is the last update for today. ;-)
by Volker Weber
The Mac news sites can now start worrying when 10.4.3 may be out.
by Volker Weber
If you try to send me an SMS, I won't receive it for a simple reason: I am not carrying the phone with the number that I have published. This one stays at home (within the O2 homezone) and forwards all incoming calls to a second phone. Your benefit: You can call my landline number for a lot less money and still get me on the mobile. My benefit: I can forward to different GSM chips without telling you that I am switching numbers again.
So while my "forwarding phone" was sitting at home, it received an invitation for lunch from Oliver about three weeks ago and a nice message from Nick while he was in Italy. Just read them when checking my home base. Sorry, guys. Don't text me.
by Volker Weber
I recently speculated how IBM wants to grow sales revenues short term with some audit fear mongering. Here is a slide that shows IBM's dreams. Keep this in mind when IBM reports tremendous growth next time.
The presentation contains a possible explanation of this "honesty gap" that made me chuckle:
Customer does not understand IBM's terms and conditions
Here is your task should you chose to accept it: Try to find an IBMer who understands IBM's terms and conditions.
by Volker Weber
Boudewijn writes in an email:
The English hacker 'Solo', who hacked US gov. and NASA sites to proof that they are withholding UFO information, was charged. The charge was published in PDF and contains IP addresses of NASA and US Military who where hacked. These IP addresses are blanked in PDF but readable by copy and paste to notepad or so.
http://news.findlaw.com/hdocs/docs/cyberlaw/usmck1102vaind.pdf
by Volker Weber
While the news media try to paint a "everything is back to normal" picture of London, there clearly are some mixed reactions. While the mayor is taking the tube to work as usual, others are told to avoid the city.
by Volker Weber
Apple updates iSync to version 2.1, supporting a lot more devices, including the Nokia 6630 smartphone that I recently tested. The 9300/9500 communicators are still not officially supported. Windows smartphones and PDAs need 3rd party software, the Palm devices require the Hotsync Manager as well as the iSync conduit.
by Volker Weber
UNIX is an extremely popular platform for deploying server software partly because of its security and stability, but also because it has a rich set of command line and scripting tools. Programmers use these tools for manipulating the file system, processing log files, and generally automating as much as possible.

If you want to be a serious server developer, you will need to have a certain facility with a number of UNIX tools; about 15. You will start to see similarities among them, particularly regular expressions, and soon you will feel very comfortable. Combining the simple commands, you can build very powerful tools very quickly--much faster than you could build the equivalent functionality in C or Java, for example.
This applies to Mac OS X and Linux just as well.
by Volker Weber
On Free SkypeOut Days you'll be able to redeem 10 minutes of credit for SkypeOut calls and it won't cost you a thing.

We wish every day could be a Free SkypeOut Day, but that would make us bankrupt. So our accountant says we can have 4 of them this month.
by Volker Weber
And here are a few more of those ads. If the message is not clear, this video might help. :-)

by Volker Weber
Ed Bott says it best: Dear Microsoft: Why should we trust you to detect spyware?

by Volker Weber
Wie Computer Partner berichtet, sucht IBM Wohnungen:
Bekanntlich verlagert IBM Teile seiner bisherigen Pariser Europazentrale von La Defense nach Zürich. Entsprechend muss sich das Unternehmen um eine Bleibe für seine Top-Manager in der Schweizer Stadt kümmern. So verschickte es aus Paris an die Stadtzürcher Liegenschaftsverwaltung eine Anfrage, ob das Amt für die Manager kurzfristig folgende Wohnungen bereitstellen könnte:

Sechs bis acht "Super-Flats" im Preisrahmen von 14.000 bis 16.000 Franken (pro Monat), ferner etwa 200 Wohnungen in der Preislage von 5.000 bis 6.000 Franken (pro Monat). Das berichtet die Schweizer Nachrichtenseite "inside channels".

Die Liegenschaftsverwaltung sah sich mit einem ungewohnten Problem konfrontiert. Es gibt weder viele freie Wohnungen in Zürich noch genügend so teure freie.
Computer Partner erklärt auch, dass IBM sparen muss:
Alle Schulungen, die kostenfrei stornierbar sind, sollen dem Mail zufolge abgesagt werden. Neue Schulungen werden nicht mehr bewilligt (mindestens bis Ende des zweiten Quartals). ... Da die Mobiltelefonkosten um mindestens 30 bis 40 Prozent gesenkt werden müssten, dürfen Mitarbeiter von Big Blue ab sofort nur noch auf dem Mobiltelefon angerufen werden. ... Die Schweizer IBM-Mitarbeiter müssen sich auch ein Reiseverbot gewöhnen. Lediglich spezielle Projekte und Kundenmeetings sind davon ausgenommen. Management-Meetings müssen via Telefonkonferenz abgewickelt werden.
by Volker Weber
Howard Rheingold reports on the selective use of technology by the Amish of Pennsylvania. Very interesting reading, because it gives you a sense of how often we use technology without thinking of the consequences. I have one particular friend that is really hard to talk to because he is constantly interrupted by the technology around him, be it a ringing cell phone or something he reads on his notebook, while smoking a cigarette and ordering something to drink. This leads to extremely short attention spans and puts you into a constant pressure to perform. I have jokingly called him on his cellphone while sitting across from the table in an effort to silence the pacifier:
... what does one's use of a tool say to other people, particularly loved ones, about where they stand in our priorities? In my own house, we decided to get a rollover to voicemail instead of call waiting - experiences on the receiving end of call waiting convinced us that both parties on the other end of the line get pissed off when you interrupt the conversation. No matter how absorbing the flame war of the moment might be, I make a point of suspending online communication when someone in my presence attempts to talk with me. And I've come to believe that face-to-face conversation should outrank disembodied conversation via cell phone or email.
Very often I ignore a phone ringing because I am currently occupied by something else. The same holds true for instant messages. They have lower priorities than face to face communications at all times. Please be patient with me. Sometimes you need to let the phone ring at least 10 times to get me. ;-)
by Volker Weber
The Core Pocket Media Player is an open-source media player for Palm OS-based and Windows CE / Windows Mobile-based devices.
by Volker Weber
Sometimes I have to shake my head in complete disbelief:
Later this summer, the Kansas State Board of Education is widely expected to change its state science standards to cast doubt on evolution.
by Volker Weber
Die mit Abstand besten Brötchen in Darmstadt gibt's hier:
Bäckerei Schwerdt
Kaupstr. 48
64289 Darmstadt
(06151) 9671959
Offizielle Öffnungszeiten: Mo geschlossen, Di-Sa ab 6:00 Uhr, So ab 8:00 Uhr. Vorher ist natürlich auch schon jemand da. :-)
[Danke, Anna]
by Volker Weber
Show the world that we're not afraid of what happened to London today, that the world is a better place without fear.
by Volker Weber
[Thanks, Samuel]
by Volker Weber
openBC announced today that they are supporting Lotus Notes with the address book plugin. It lets you check which of your contacts are members of openBC. As this raises some privacy issues, openBC states:
openBC guarantees that the wizard will be used only for a one-time import of your address book. No data from your address book will be stored on openBC servers. You yourself decide which contacts of yours will be invited. Of course, this means your contacts will not be approached by openBC. This feature is for your benefit only.
If you are not a member, you can use this invitation.
by Volker Weber
Vodafone has changed their data pricing today. Now you are getting 30 meg instead of 10 meg for 10 Euro. This is actually quite a lot of traffic if you only want to do email. I found that I hardly ever need more than 5 meg a month for IMAP mail (without attachments). 200 meg of traffic go down to 30something Euro.
At the same time however, Vodafone is also starting to block VoIP traffic. That shows that the mobile providers are in serious trouble defending their imbalanced pricing structure. All the traditional services like phone calls and SMS messages are way too expensive. So far they tried to price the data tariffs on the same levels but did not find many takers. As they making those cheaper now the carriers are in danger of competing services within their own network. Taken the amount of data that VoIP generates it becomes cheaper to make phone calls with VoIP then using the standard phone application.
by Volker Weber
by Volker Weber
We recently reported that Microsoft was going to acquire Claria, the crooks formerly known as Gator. Here is step number two. Microsoft has just downgraded their anti-spyware software to ignore the Claria spyware.
[Thanks, Bruce]

by Volker Weber
Simon Phipps writes:
I still can't fathom how anyone can think mass murder is an act that is in any way congruent with any recognisable faith system.
by Volker Weber
I can't wait to see Google Maps covering Europe as well. So are so many things you can do if you are able to generate maps from a database and the let the users work with those maps. It always amazes me how you can drag the image to pan the map. This example shows free wifi-hotspots. Which is increasingly moot since you might as well open your notebook and pick up the signal that just happens to be where you are.
by Volker Weber
This image is a photomosaic of the famous painting 'Starry Night'. The image is made with over 210.000 tiny photographs and a total size of over 1.500.000.000 points in other words it is a 1.5 Gigapixel Image.
Click the image to zoom in until you see the tiny photographs.
by Volker Weber
He has already proven that pretzels and Segways are not idiot-proof. Now he has taken up biking:
Mr Bush, celebrating his 59th birthday, was said to be going at a "pretty good speed" when he fell from his bike.
by Volker Weber
Ein Mann starb bei einem Unfall auf einer Landesstraße bei Leonberg, nachdem er von einem BMW-Fahrer von der Fahrbahn gedrückt wurde.
by Volker Weber
by Volker Weber
Berlin, 06. Juli 2005 - Das Europäische Parlament hat heute den Gemeinsamen Standpunkt des Ministerrates vom 7. März 2005 zum 'Vorschlag für eine Richtlinie des Europäischen Parlamentes und des Rates über die Patentierbarkeit computerimplementierter Erfindungen' zurückgewiesen. Das intensiv und kontrovers diskutierte Rechtsetzungsvorhaben, das den Rechtsrahmen für die Patentierbarkeit computerimplementierter Erfindungen EU-weit harmonisieren sollte, ist damit gescheitert.
by Volker Weber
As Errol Rose made preparations on Monday to bury his 15-year-old son, Christopher, who was killed last week in Brooklyn during a fight over an iPod, he received a telephone call from a stranger. The man spoke in tones that the grieving father said had momentarily quieted his anguish.

The stranger, Mr. Rose soon learned, was Steve Jobs, chief executive of Apple Computer, the company that makes the iPod.
by Volker Weber
Ricky Gervais on Live8 ... Obviously. Make sure you see all four clips. In order.
[via Anke]
by Volker Weber
Excellent picture by Eric Hancock. The caption made me chuckle: I don't see you. There is no one here but me.
by Volker Weber
Check out the screenshots.
by Volker Weber
Same codec as Skype, but Gizmo uses SIP to establish a call. Maybe too little too late.
by Volker Weber
I'm in a Exchange clustering session now, the speaker just told the best practices on choosing active/active or active/passive scenarios for Exchange clustering. ... Now Microsft highly discourages active/active scenarious, saying if you have that running switch to a active/passive solution. In Exchange 12 active/active support will even not be available!
by Volker Weber
I am hardly getting any virus mails at all. But Mydoom seems to be on the rise. I received quite a few of them during the last couple of days.
by Volker Weber
I am retiring a few of the smartphones that I have used over the last couple of weeks. This turns out to be quite easy. I won't miss them at all. For a simple reason: A smartphone needs either a touchscreen or a qwerty keyboard. Series 60 and Windows smartphones have neither.
Why does a smartphone need a keyboard and/or a touchscreen? Many of the applications you want to use require text input such as URLs or emails. If you have a touchscreen you can either write on the screen or bring up a virtual keyboard. With a Series 60 or Windows smartphone you have to peck on the 12 keys of a standard phone keypad and hope for some T9 magic. This pretty much rules out all standard smartphones for me. I'd rather get a less capable but small phone instead.
So what about the P910i? It isn't as bad as my initial impression suggested. The camera needs a lot of light to take any decent pictures like this one. However, the device is very slow and sometimes very weird to handle when the jog dial fails you and you have to peck on the screen. Besides, there simply is no point using a P910i when you also have a Treo. Since I had to switch chips between the phones all the time I found it kind of weird that the P910i won't start up, not even into flight mode, when you don't have a GSM chip inside. Why is that?
Did you notice that I never mentioned a particular Windows smartphone? That should tell you to stay away from them. :-)
by Volker Weber
Ok, Ladies, I think it is pretty clear who wins. :-)
by Volker Weber
Gestern bei Live 8, heute wieder in meinem Ohr: Shine On You Crazy Diamond. Nein, das haben sie gestern nicht gespielt.
by Volker Weber
Gerade auf dem Heinerfest gewesen. Ich weiß jetzt wieder, warum ich nicht dort Urlaub mache, wo die alle hinfahren.
by Volker Weber
4Peace Ensemble, A-ha, African Children's Choir, African Guitar Summit, Agata Kristy, Alicia Keys, Aliona Sviridova, Amel Bent, Andrea Bocelli, Annie Lennox, Antonello Venditti, Articolo 31, Audioslave, Axelle Red, B-2, BAP, Barenaked Ladies, Beverly Knight, Biagio Antonacci, Björk, Black Eyed Peas, Blue Rodeo, Bob Geldof & The Boomtown Rats, Bon Jovi, Brian Wilson, Bruce Cockburn, Bryan Adams, Calogero, Cerrone / Nile Rogers, Chris de Burgh, Claudio Baglioni, Coldplay, Craig David, Crosby Stills & Nash, Cure, Dave Matthews Band, David Hallyday, Deep Purple, Def Leppard, Def Tech, Delphin, Destiny's Child, Diam's, Dido, Die Toten Hosen, Disiz La Peste, DMC, DobaCaracol featuring Kna'an, Dreams Come True, Duran Duran, Elisa, Elton John, Faith Hill, Faithless, Faudel, Florent Pagny, Francesco De Gregori, Garik Sukachev, Gemelli Diversi, Good Charlotte, Gordon Lightfoot, Great Big Sea, Green Day, Herbert Grönemeyer, Irene Grandi, Jabu Khanyile and Bayete, Jann Arden, Jay-Z, Jet, Joana Zimmer, Johnny Hallyday, Josh Groban, Joss Stone, Jovanotti, Juan Diego Florez, Juli, Jungo, Kaiser Chiefs, Katherine Jenkins, Keane, Keith Urban, Killers, Kool Shen, Kyo, Laura Pausini, Le Vibrazioni, Les Trois Accords, Ligabue, Linda, Lindiwe, Linkin Park, Louis Bertignac, Lucky Dube, Madonna, Mahotella Queens, Malaika, Mariah Carey, Maroon 5, Matt Copora, Max Pezzali, McFly, Midge Ure and African artists from Peter Gabriel's WOMAD, Moral Code X, Ms. Dynamite, Muse, Mötley Crüe, Natasha Bedingfield, Negramaro, Negrita, Nek, Noa, Orchestre Baobab, Oumou Sengare, Our Lady Peace, P. Diddy, Paul McCartney, Pet Shop Boys, Piero Pelu, Pink Floyd, Pino Daniele, Placebo, Povia, Proclaimers, Raphael, Razorlight, Reamonn, Red Elvises, REM, Renato Zero, Renee Olstead, Rize, Rob Thomas, Robbie Williams, Ronan Keating, Roxy Music, Sam Roberts, Sarah McLachlan, Sasha, Scissor Sisters, Shakira, Shakira, Sheryl Crow, Silbermond, Simple Pain, Snoop Dogg, Snow Patrol, Stereophonics, Stevie Wonder, Sting, Söhne Mannheims, Tegan & Sara, Texas, The Bachman Cummings Band, The Corrs, The Cure, The Killers, The Sugababes, The Tragically Hip, The Who, Tim McGraw, Tina Arena, Tiromancino, Toby Keith, Tom Cochrane, Travis, U2, UB 40, Vasco Rossi, Velvet Revolver, Annie Lennox, Vusi Mahlasela, Wir Sind Helden, Yannick Noah, Youssou N'Dour, Zola, Zucchero
Thank you Phoenix, for broadcasting the full event. Without any commentators. Excellent!
by Volker Weber
Microsoft is apparently in talks to acquire Claria. Never heard of them? They had to rename themselves, since they no longer wanted to be recognized by their previous name: Gator.
Why does Microsoft buy those scumbags? You be the judge.
by Volker Weber
Er begann mit Brionis und Havannas, gewann mit Charakter beim Bushkrieg, verlor, als er nichts mehr zum Verschenken hatte. Gestern ließ er 70 Gesetze abnicken. Heute lässt er lügen. Tschüss.